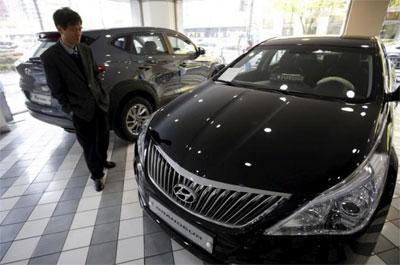 The Competition Commission of India (CCI) fined the local unit of Hyundai Motor Co Rs 420 crore ($65.8 million) on Tuesday after an investigation found it had engaged in anti-competitive practices.
The competition watchdog also found carmakers Mahindra Reva Electric Car Company, part of Mahindra & Mahindra, and Premier Ltd in violation of competitive practices but did not impose a fine on the companies, the CCI said in a statement.
The order is a continuation of a Rs 2,550 crore ($420 million) penalty it imposed in August last year on more than a dozen global and local carmakers. They include the local units of Toyota Motor Co and Volkswagen AG and local carmakers Tata Motors Ltd and Maruti Suzuki India Ltd. An investigation found that they too had engaged in anti-competitive practices.
The CCI said in a statement its inquiry showed Hyundai, Reva and Premier were restricting access to spare parts and diagnostic tools in the aftermarket, which in turn made servicing and repairing cars more expensive for consumers.
"The car companies were found to be indulging in practices resulting in denial of market access to independent repairers as the latter were debilitated to provide services in the aftermarket for repair and maintenance of cars for want of genuine spare parts," the CCI statement said.
"Further, these car companies were also found to be using their dominant position in the market for spare parts and diagnostic tools to protect their market for repair services, thereby distorting fair competition."
The CCI has asked Hyundai to deposit the penalty within 60 days from the order date, and has asked all three carmakers to take corrective measures.
Hyundai's Indian unit and Mahindra did not immediately comment. Premier was not immediately reachable for a comment.