With projects worth Rs 1,28,000-cr, the group hopes to become one of the country's biggest industrial houses.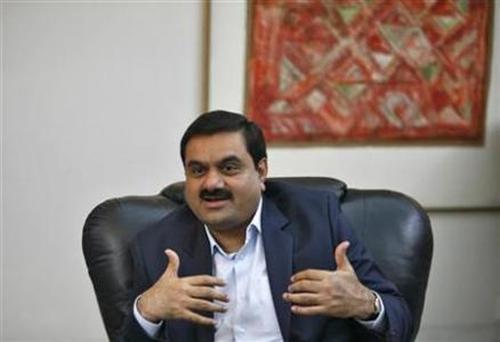 With its $13-billion Australian coal mine project now on the back burner, the Ahmedabad-based, Adani group is now going to turn its focus on executing $20-billion (Rs 1,28,000-crore) of projects in India.

With these projects - in the ports, power and infrastructure sectors - the group hopes to become one of India's biggest industrial houses.
The fresh investment the group is planning is in addition to the Rs 50,000 crore (Rs 500 billion) it promised on Friday to invest in setting up urea, power and natural gas projects in Jharkhand.
Last week, the group had said it was stopping work at its Australia coal mine project due to delay in approvals from the local government.

Though the local government said all approvals were in place, the decline in coal prices and lack of bank funding were seen as some of the reasons for Adani to go slow in Australia.
Analysts say it makes sense for the group to focus on its India projects, considering the number of projects it has announced or taken over since the Narendra Modi-led government took charge at the Centre.
However, they are not sure how Adani plans to fund its massive projects. "The Adani group is financially and operationally leveraged to the expansion of several sectors across the Indian economy. Numerous new projects are underway. Some of those will be viable and proceed, while others might see some regulatory, market and financing changes that could make the proposals non-commercial," said Tim Buckley, director, Energy Finance Studies, Australasia.
At the end of March 2015, the group's three listed companies had a combined debt of Rs 75,000 crore, a group-level debt-to-equity ratio of 2.9. At 5.7 times, the group's gearing ratio (total debt to operating profit) was also on the higher side.
While group companies are comfortably servicing their debt, with operating profit far higher than interest obligation, their capital expenditure is growing faster than internal accruals. This is forcing them to either make fresh borrowings or raise equity.

The group's debt in 2014-15 was about Rs 10,000 crore (Rs 100 billion) higher than in the previous year. By comparison, the group's equity (or net worth) increased by around Rs 2,000 crore, further worsening its leverage ratio.
The bulk of Adani group's debt is accounted for by Adani Power, which reported a total debt of Rs 41,384 crore at the end of 2014-15. It was a fourth straight year in which the company reported a net loss.

The brighter side, however, is that Adani group's port company, Adani Ports & SEZ, is cash-rich and one of its least leveraged companies. This, coupled with its high market-capitalisation-to-debt ratio, gives the Adani group the headroom to further scale up its capital expenditure.
The group plans to raise $1.5 billion from foreign bonds, apart from raising funds from local banks for individual projects. Adani's India investments are huge. The biggest it is going to make is in solar power.

The group has signed a joint venture with US-based SunEdison Inc to manufacture solar panels. The joint venture will invest a massive $4 billion (Rs 25,600 crore) in a manufacturing facility that will be set up in Mundra.

The group has also signed a memorandum of understanding with the governments of Rajasthan, Gujarat and Tamil Nadu to set up solar parks for electricity generation. The investments in these solar parks are going be very big in size - Rajasthan tops the list with Rs 40,000 crore (Rs 400 billion).
Approached by Business Standard, the Adani group refused to comment on its expansion plan. Among its port-sector plans, the group is to invest Rs 10,000 crore in expanding its capacity at Odisha's Dhamra Port to 100 million tonnes per annum by 2020.

It will also set up a new port, worth Rs 6,200 crore (Rs 62 billion), in Kerala. Adani Ports is also developing a new Rs 1,270-crore (Rs 12.70 billion) container handling terminal at Tamil Nadu's EnnorePort, with a Rs 7,680-crore (Rs 76.80 billion) capital expenditure plan to expand the capacity to 80 mtpa.
In a report dated June 24, Deutsche Bank said Adani Power's reduced valuation of 1.6 times its 2015-16 estimated earnings still looked high when compared to peers, assuming a steady 5-11 per cent return on equity by 2017-18.
"We retain a 'hold' rating due to the delay in compensatory tariff approval, which is bloating the capital structure. Even under conditions of reasonable volume growth and benefits of compensatory tariffs, the return on equity appears to be in a single digit. That could weigh on valuations," said the report.
"The company has implemented a 5-25 refinancing scheme for Kawai, and expects to complete it for Tiroda. That should lead to improvement in cash flows. The signing of long-term fuel supply contracts/new mine allotment for Kawai and Tiroda-II projects, and a favourable verdict for compensatory tariff cases will be key factors," the bank said in its report.
To raise funds effectively and to increase liquidity in its stocks, holding firm Adani Enterprises Ltd underwent a major restructuring, under which shareholders of Adani Enterprises received shares in AdaniPort and Adani Power.

The flagship Adani Enterprises was left with businesses like coal trading & mining, city gas distribution, agri logistics, edible oil and agro-commodities trading. The restructuring will help each group company, including the flagship, to chart its own expansion plans in India, say analysts.
As of March 2015, on a revenue of Rs 3,909 crore (Rs 39.09 billion), AdaniPort had a debt of Rs 15,200 crore (Rs 152 billion).

This was 18 per cent higher than the previous year. Most of the additional debt was taken in 2014-15 for capital expenditure for Hazira, Mundra container terminal-IV and maintenance.

Analysts do not see any increase in the debt of AdaniPort after restructuring.