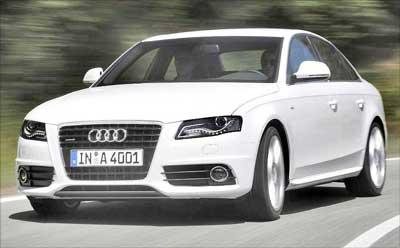 Audi, the German luxury car manufacturer, will launch its new Audi A4 sedan in July this year.
The A4 is priced at Rs 29 lakh (Rs 2.9 million) (ex-showroom Mumbai without sales tax, transportation, etc).
At an overall length of 4.70 metres, the new A4 is a large saloon. Its 480-litre boot and the legroom for rear passengers are larger than of any of its direct competitors.
"The new Audi A4 will be a very important model for India. The Audi A4 holds a special significance with respect to achieve our proposed goal of more than 1,000 sold cars in India by the end of this year," Audi India MD Benoit Tiers said.
The A4 is a mid-size sedan with a length of 4.70 metres. Audi said in a statement that it is accepting orders for A4 at its dealerships in Delhi, Gurgaon, Chandigarh, Pune, Hyderabad and Bangalore.
The Audi A4 comes with high standard equipment to India, including features previously known only from upper segments: Audi brings the multi media interface (MMI) as available option to the Audi A4, additionally the optical parking system with rearview camera and the Bang & Olufsen sound system.
Audi A4 is being launched in India first with a choice of two refined, powerful engines: the refined 2.0 TDI multitronic with a power-output range of 105 kW (143 bhp) and the 3.2 FSI tiptronic quattro with 195 kW (265 bhp). Both of them use the direct fuel injection principle: FSI technology for the petrol engine and the common-rail system for the TDI unit.