Commercial vehicle major Ashok Leyland plans to strengthen its presence in the 5-12-tonne range of vehicles. It is to launch trucks from the Prague-headquartered AVIA, which it had bought in 2006, and would upgrading its light commercial vehicles (LCVs) from the joint venture it has with Nissan of Japan. It has also said the JV with Nissan would turn cash-positive in the next 18 months.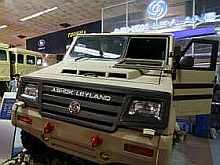 K Sridharan, chief financial officer of Leyland, said: "We have been traditionally a heavy duty player and our focus has been more on the above-25 tonnes category." In the below-12 tonne segment,it has only one or two products.

"Going forward, we should be able to consolidate our presence, with the launch of AVIA trucks and the upgraded version of products from the Leyland-Nissan JV, which should now move up from three-tonners to a higher range. If we succeed in that, we should be able to have more models in the 5-12

tonne range." He said the Nissan JV can move up closer to eight tonnes.

Leyland had joined hands with Nissan to enter the LCV space. The first model, Dost, was sold under the Ashok Leyland brand. It has 16.6 per cent nationwide in the 2-3.5 tonne segment.

"We have done close to 7,500 vehicles (in the JV) and we do expect the business to turn cash-positive in the next one or one and a half years," said Sridharan.

Recently, the partners signed an agreement with the Tamil Nadu government to set up a factory at Pillaipakkam, close to Sriperumbudur (40 km from this city), with an investment of Rs  1,600 crore (Rs 16 billion). At present, their vehicles are manufactured at Leyland's Hosur facility (in Tamil Nadu, but close to Bangalore).

Tamil Nadu accounted for around half the LCV sales last year. "We have been focusing on Tamil Nadu, consolidating our base. Now, the distribution networks have been set up pan-India," said Sridharan.