If the RBI fails to provide adequate cash, it may lead to serious law and order issues, AIBEA told the central bank.
Business Standard's Abhijit Lele and Nupur Anand report from Mumbai.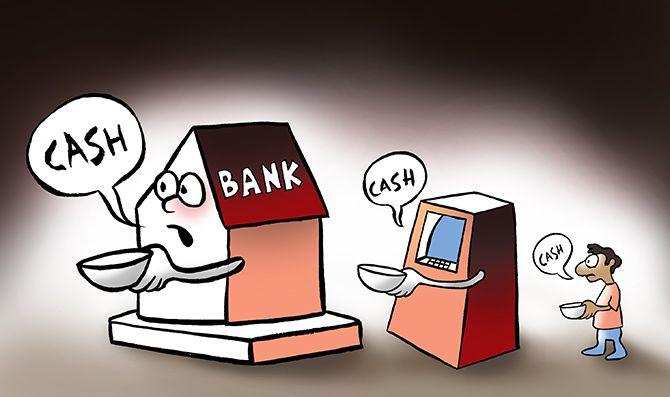 The country's largest bank, the State Bank of India, expects less pressure from demand for cash in the "payday week" in December due to early withdrawals in November and customers' shift to electronic payment channels for transactions.
However, limited supply of currency notes from the Reserve Bank of India remains a challenge for managing cash dispensation in rural areas.
Even in urban centres, banks do not receive adequate supply of notes and run out of cash at branches and automated teller machines. Even ATM cash management companies say there is acute shortage of cash.
Small banks are also upset with the availability of cash as they claim that the larger banks are getting preferential treatment in cash allocation.
Meanwhile, senior SBI executives remain optimistic that the demand for cash will taper, and said customers have already withdrawn more cash than normal to avoid problems in the first week of December when they have to make payments in cash for monthly bills.
Also, there has been a shift in transactions to electronic channels since the note ban on November 8 especially in large cities, albeit on a small scale, they added.
As a result, SBI officials expect lower withdrawals in their channels over the next 10 days at Rs 10,000 crore compared with average withdrawals of Rs 15,000 crore in the first seven days of every month in the past 10 months before demonetisation.
There has already been a rise in cash withdrawals as some organisations pay salaries early, typically in the last two or three days of the month.
This is also expected to take some pressure away on branches, said the chief executive officer of a small public sector bank.
However, branches and ATMs continue to have a problem in cash availability as the limited supply of notes from the RBI is getting exhausted quickly, he said.
"Everybody laying their hand on cash is holding on to it. Fear (of shortage of currency) will not go until people see enough cash available throughout the day at ATMs. Going by the current pace of currency supply, it would take another month for the situation to limp back to normal days," said another senior public sector bank official.
On making recalibrated ATMs available for cash transactions, the task force constituted under RBI Deputy Governor S S Mundra has managed to recalibrate close to 85% of the ATMs.
At the end of August, as per RBI data, the number of ATMs was at 202,801, according ATMs manufacturers.
However, despite this, most ATMs still continue to run dry or the queues outside the functioning ATMs still run long.
"Most of the ATMs have been recalibrated, but we don't have adequate money to put in it. In fact, some banks have said to not put more than Rs 5 lakh or so in an ATM so that they can target more areas. As a result, the machines are still running at 10% to 20% of their capacity," said V Balasubramanian, president-transaction processing & ATM services, FSS. It manages about 40,000 ATMs across the country.
According to the All India Bank Employees Association, the next 7 to 10 days are going to be more tense because huge number of employees, workers and retirees/pensioners would throng the branches to draw their salary.
If the RBI fails to provide adequate cash, it may lead to serious law and order issues, AIBEA said in a letter written to the central bank.