Secunderabad-born Suresh Kumar, a former Doordarshan sports and news anchor over 30 years ago, who two years ago was appointed by President Obama to lead the Commerce Department's US  and Foreign Commercial Service  as Assistant Secretary for Trade Promotion was showered kudos by Commerce Secretary John Bryson for helping to increase American exports exponentially as Kumar announced his decision to return to the private sector.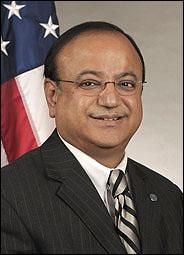 The USFCS, which is part of Commerce's International Trade Administration, is a global network of trade specialists with offices across America and in more than 70 countries around the world. The organization's job is to help connect US companies looking to sell their products overseas with foreign buyers.
On Kumar's watch, the Commercial Service had gotten better results with fewer resources and also gone from an organization that tended to measure its progress with difficult-to-quantify anecdotes to one that's metrics driven - a change that was  critical to helping determine what's working and what isn't in the Department's efforts to meet President Obama's National Export Initiative goal of doubling U.S. exports by the end of 2014.
Bryson said, "Ultimately, leaders are measured by whether they leave an organization better than they found it. With the changes Suresh helped usher in, the US and Foreign Commercial Service is, without question, in a better position to succeed today."
 "Improvements to the technology available to USFCS staff and the repositioning of Commercial Service Officers to markets with the best potential for US export growth will benefit American businesses eager to export for years to come," he said.
Bryson noted that just a few statistics illustrate how the organization had grown stronger and more effective during Kumar's tenure noting that in  2009, 158 U.S. companies went on Commerce-organized trade missions. In 2010, there were 527. Also, in 2009, there were 8,900 participants in Commerce's International Buyers Program, which recruits qualified foreign buyers, sales representatives and business partners to US trade shows, but in 2010, it had grown to  15,600.
"Those measurements tell a good story, but the statistic that's most important to me and to the President is 303,000," the Commerce Secretary, said, and added, " that's the number of jobs supported last year by the exports the USFCS helped facilitate,--a  figure has more than doubled since 2009."
Bryson said, "We wish Suresh the best in his future endeavors, and I know he'll continue to support the expansion of global trade in the private sector."
During Kumar's tenure, exports had moved up from 11 percent of GDP to 14 per cent, but he said the figure he was most proud of was the rate of investment that his department had facilitated during his watch, "because for every dollar invested in the USFCS by American taxpayers returned $215 by way of facilitated exports, up from $101 when I took over, and which was a full 10 times more than the United Kingdom's 22 pounds per every pound of investment."
Kumar told rediff.com that his decision to quit was "very simple. My commitment to the President was to help him achieve results and I committed two years of my time, and we've accomplished everything we set out to do."
"The performance in terms of job creation and the performance in terms of return on investment were tremendous," he said. "As the Commerce Secretary said, "We doubled job creation in two years, despite not getting the budget required approved by the Congress to drive commerce. When I came in, the Commerce Department supported 144, 000 jobs, but I leave with my department creating 303,000 jobs."
Kumar, slamming the glacial pace with which the US Congress moves, for all its talk of wanting to help create jobs, said, "the struggle to get anything through Congress, has been stupendous."
"I strongly believe I can continue to support and assist the president much more from the outside, even moreso than what I've done in public service," he said. "So, I'll continue to help American companies prosper globally and regionally and do so while creating jobs in this country."
During his tenure, Kumar acknowledged that it was "so fulfilling to have also had the opportunity to foster the US-India trade and commercial relationship, and there was  huge amount of stuff that we've done and we'll continue to do, which has been extremely helpful to enhance US-India economic relations."
He said it helped greatly because of his Indian connections and noted that the current Indian Ambassador to the United Nations, Hardeep Puri, the Deputy Chief of Mission at the Indian embassy in Washington, Arun Kumar Singh, and his predecessor, the late Raminder Singh Jassal, 'were all my debating buddies at the University of Delhi, and they were folks who pretty much grew up with me and together we've been able to do what's right for both countries."
Kumar said what within the Commerce Department and the administration in general, India's potential, vis-à-vis China, was held in high esteem, largely because "of India's demographic component, which is significantly young and augurs well for the future."
But he argued that "India has to understand that it has to work towards creating that future."
When then Commerce Secretary Gary Locke, now the first Chinese American US ambassador to Beijing, administered the oath to Kumar, he said,  "Suresh comes to Commerce from a long - and successful - career in international business, which makes him a perfect fit for his new post: managing our worldwide network of export assistance offices."
"He has spent over 30 years as an international businessman, consultant, coach and professor of management," the Commerce Secretary noted and added that besides  Kumar's years of management and corporate experience, "he's been a trusted voice in the nonprofit community, having helped advise the Clinton Foundation, the Bill and Melinda Gates Foundation, the African Development Bank and the Alliance for a Green Revolution in Africa."
Thus, Locke predicted, that "aside from his managerial expertise, I know that Suresh will be a great public face and advocate for our commercial service and for American businesses."
"Suresh has lived in six countries, and he speaks as many languages - and that global perspective will serve him well as he helps implement President Obama's National Export Initiative, which aims to double exports over the next five years, and support two million jobs," he said.
In January 2004, Kumar founded Kaizen Innovation, a management advisory firm dedicated to improving local communities and global markets, and  from 2006 to 2007, served as Special Adviser to the Clinton Foundation, working closely with the principals and governments in sub-Saharan Africa to establish private-public partnerships to stimulate economic development in the region. He focused on developing agriculture related initiatives, inputs and infrastructure to promote food security, nutrition and health.
Kumar's initiatives led to large scale use of fertilizers in Rwanda for the first time, resulting in increased crop yield and food surplus, helping small holder farmers realize four-fold return on input investment in test regions.
From 1999 to 2003, Kumar was head of Worldwide Consumer Pharmaceuticals for Johnson & Johnson, where he was responsible for all aspects of a $580 million - in revenue - consumer medicines business in Asia, Latin America, and Europe, working with brands such as Tylenol and Imodium and is credited with turning around the emerging markets business.
Prior to that, from 1993 to 1999, he was Marketing Director, Consumer Healthcare, then Vice President, Consumer Products, Latin America & Asia, for Warner Lambert/ Pfizer, USA, which included consumer healthcare, confectionary and having products businesses.
From July of 2008 to July of 2009, Kumar also served on the Board of Directors of AeroGrow International - the Boulder, Colorado, research, development and marketing company of the AeroGarden line of indoor gardening products - and was a member of the firm's Governance, Compensation & Nominating Committee and the Audit Committee.
Though born in Secunderabad, Kumar  grew up in Delhi and went to St Columbus High School in Delhi and Hindu College, Delhi.
He received his economics degree from Delhi University and his MBA from the Jamnalal Bajaj institute of Management of the University of Bombay.
Before he came to the US, he also held senior positions internationally for Levi-Strauss & Co, Unilever and the Colgate-Palmolive Company.
Kumar's wife Sheila Kumar is vice president for Johnson & Johnson's Consumer Services, Inc, and their daughter, Dr Pooja Kumar, a Harvard-trained physician,  is a senior health consultant at McKinsey & Company and an erstwhile Rhodes scholar at Oxford University, England.