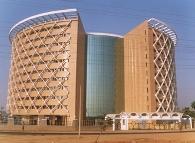 From a 'SMART' (Simple, Moral, Accountable, Responsive and Transparent) administration, Andhra Pradesh will soon transform into an 'INFO-AGE' (Inclusive, Networked, Fast, Open, Accountable, Globally benchmarked and Efficient) government.
While the then government headed by N Chandrababu Naidu adopted the SMART theory in the mid-1990s, the current Rosaiah government is now setting into the 'Info-Age', with information and communications technology (ICT) being the guiding principle for the two approaches.
The brain behind Info-age concept is Sameer Sharma, till recently the Principal Secretary of ICT Department and currently Commissioner of Greater Hyderabad Municipal Corporation (GHMC).
"We will leverage ICT to achieve an INFO-AGE government. Our goal is to transform the state into a knowledge society and make available the benefits of ICT to all citizens, especially those in rural areas and living in poverty," Information Technology minister Komatireddy Venkat Reddy said.
Andhra Pradesh has been a pioneer in e-governance initiatives, under a tech-savvy Chandrababu Naidu between 1995 and 2004, while the state emerged as a leading IT destination in the country.
The state's IT exports that were just Rs 284 crore (Rs 2.84 billion) in 1997-98, shot up to Rs 32,509 crore (Rs 325.09 billion) in 2008-09.