Analysts believe the merged HDFC Bank is better placed than most of the other private banks as far as margin expansion and net interest income growth is concerned.
Nikita Vashisht reports.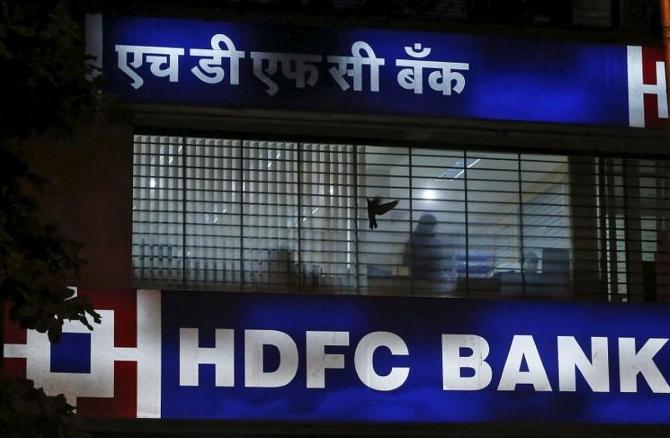 HDFC Bank Q1FY24 results analysis: Shares of HDFC Bank, the world's seventh largest financial entity, have advanced 2 per cent in two days, as against 1 per cent rise in the benchmark S&P BSE Sensex, after the lender reported its April-June quarter (Q1) results for financial year 2023-24 (FY24) on July 17.
The S&P BSE Bankex index, meanwhile, has gained 1.3 per cent.
While the near-term stock performance may remain sideways due to merger-related hiccups, analysts remain bullish on the stock's long-term prospects.
They believe the merged entity is better placed than most of the other private banks as far as margin expansion and net interest income (NII) growth is concerned.
"HDFC Bank's NII was up 21 per cent year-on-year (YoY), while NIM is expected to hold-up better than peers. Loan growth (16 per cent standalone; 13 per cent merged) was soft, but can pick-up over the next one-two quarters as HDFC Ltd's loans would stabilise.
"Retail deposit growth was soft, and pick-up here is key to aid asset growth.
"From Q2FY24 onwards, results will be for the merged entity and we see 17 per cent profit CAGR over FY23-26 with 16 per cent return on equity (RoE)," wrote Prakhar Sharma and Vinayak Agarwal of Jefferies in their report.
They value the lender at 2.4-times 12-month forward price-to-book (PB) and 18-times price-to-earnings (PE) multiple, deriving a target price of Rs 2,100, up 25 per cent from current levels.
Meanwhile, here's how other brokerages interpret the results:
BNP Paribas ' Buy ' TP: Rs 2,260
HDFC Bank's current account-savings account (CASA) growth of 10.7 per cent YoY was impressive given system growth of 2 per cent in FY23, but CASA ratio fell 190bps QoQ to 42.5 per cent.
The bank currently has 7,800 branches, and management plans to add 1,500 branches annually over the next 4-5 years.
Investments at the bottom of the credit-cost cycle has led to the cost-to-income (C/I) ratio rising by 222bps YoY to 42.8 per cent and should mean-revert in due course.
We think the bank's current valuation does little justice to its compounding potential and low balance-sheet risk.
We think that a 1.9-2.0 per cent post-merger return on asset (RoA), as guided by the bank, has the potential to surprise the market and act as a re-rating trigger.
Emkay Global ' Buy ' TP: Rs 2,150
Factoring-in the relatively slower growth and higher operating expenditure (opex), we cut our merged earnings estimates by 2-5 per cent for FY25/26.
However, we believe that steady unwinding of merger synergies, largely offsetting the regulatory drag, should help the bank clock healthy RoE at 17 per cent by FY26.
Notwithstanding the near-term merger drag, we believe HDFC Bank offers the best play on India's retail story, with mortgages, too, in its fold, thus, delivering healthy growth/RoE.
ICICI Securities ' Buy ' TP: Rs 2,000
While headline loan growth for the merged entity stands at 13 per cent YoY, the bank sounded confident of improving the same to 17 per cent YoY for FY24 as drag from non-individual book of HDFC Limited recedes.
The merged entity's loan-to-deposit ratio (LDR) stands at 109 per cent and the bank would endeavour to bring it to standalone bank's level (84-85 per cent) in 3-4 years.
This would necessitate strong deposit growth.
JM Financial ' Buy ' TP: Rs 1,900
We believe trajectory of deposit accretion and NIM sustainability is a key monitorable for HDFC Bank as it onboards a large floating rate asset book.
We build deposit and loan growth of 20 per cent each for FY25. RoE is likely to hit pre-merger levels only post FY25.
Prabhudas Lilladher ' Buy ' TP: Rs 2,025
Asset quality surprised positively with lower gross non-performing assets (GNPA; at 1.17 per cent) led by lesser slippages.
The bank expects asset quality environment to remain benign in near-term which would translate into higher opex.
Hence, for FY24/25, we raise opex estimates by 5 per cent while reducing provisions by 18 per cent/10 per cent, respectively.
Nuvama Institutional Equities ' Buy ' TP: Rs 1,960
The net addition to deposits in Q1FY24 is Rs 29,000 crore versus the guidance of Rs 1 trillion every quarter.
To grow the balance sheet at 18–20 per cent YoY, the required deposit growth is Rs 1 trillion every quarter, translating to QoQ growth of 5 per cent.
However, the only risk here is the very high base.
MOFSL ' Buy ' TP: Rs 2,070
HDFC Bank reported a steady quarter with healthy growth in NII and PAT.
Loan growth was driven by sustained momentum in Commercial and Rural Banking and a pick-up in the retail segment.
We introduce forecasts for the merged entity and estimate net earnings of Rs 65,400 crore/Rs 79,800 crore/Rs 95,700 crore over FY24-26, translating into an RoA of 1.9-2.1 per cent.
We, thus, estimate RoE for the merged entity to revert to pre-merger levels of over 17 per cent by FY26.
---
Disclaimer: This article is meant for information purposes only. This article and information do not constitute a distribution, an endorsement, an investment advice, an offer to buy or sell or the solicitation of an offer to buy or sell any securities/schemes or any other financial products/investment products mentioned in this article to influence the opinion or behaviour of the investors/recipients.
Any use of the information/any investment and investment related decisions of the investors/recipients are at their sole discretion and risk. Any advice herein is made on a general basis and does not take into account the specific investment objectives of the specific person or group of persons. Opinions expressed herein are subject to change without notice.