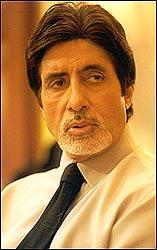 Talk of one brand using another one for creating instant awareness and Amitabh Bachchan, the quintessential brand ambassador, springs to mind.
One KBC (Kaun Banega Crorepati) and 16 brand endorsements later, the Big B is hungry for more. Two new multinational lifestyle brands have been lined up by his celebrity management agency, Alliance Media & Entertainment.
Sunil Doshi, the CEO of the company, refuses to divulge details but admits that the endorsement list is fast expanding: "The new brands will be announced within two months."
In the last two months he's been signed on by Hindustan Lever Limited for Rin and the diamond company Gitanjali for its Damas Solitaire range.
Interestingly, the Rin deal for Bachchan was struck by celebrity management company Percept D' Mark.
Says Percept's CEO Preeta Singh: "We don't represent him but if we see a brand fit we will work with him in the future."
Clearly, the superstar of celebrity endorsements is far from calling it a day.
Commenting on why Rin got Bachchan, HLL's Mumbai-based spokesperson says: "For us Rin is a big category which stands for purity and whiteness. We thought the biggest and purest star like Bachchan would work well for the product. Our consumer insight studies have revealed that people have loved the ad and it delivers the point well."
Needless to say, with commercials such as Dabur Pudin Hara, Parker pens, ICICI Bank, Nerolac paints and Pepsi behind him, Bachchan has crossed all image barriers that worry ambassadors and corporates alike.
It does not bother Mehul Choksi, MD and chairman of the Gitanjali group that Bachchan promotes Dabur Lal Tel other than his solitaires.
"He is so powerful as a brand himself that his over-exposure is not a matter of concern at all," claims Choksi. The tagline, "One in a billion" for the solitaire that AB endorses, says Choksi, actually explains the persona of Big B "who, too, is one in a billion."
Agrees Doshi: "AB has a peculiar advantage. No other celebrity cuts through the socio-economic classes and reaches out to people aged between 6 and 60. Indian corporates are using him for his phenomenal pan-India appeal."
But does using as promiscuous a brand ambassador as Big B translate into profits? Doshi thinks so. "Why else would there be a beeline for him? After all the marketing professionals who hire him are intelligent people and know where to put their money," he says.
HLL spokesperson says it's too early to gauge the success of Rin in terms of sales. Though Dabur healthcare products' sales have improved, "the increase can't be solely attributed to him.
Marketing initiatives such as innovative packaging and other communication activities have also taken place," says a Dabur India Ltd spokesman.
On an average, companies sign up AB for 3 to 5 years for a handsome fee running into crore (Rs billion)s. As Star Plus gets set to splash the star on its channels in the coming weeks to promote KBC part II, creative heads of advertising agencies warn against "lazy advertising" — where inadequate content is masked by the usage of a celebrity.
Says Leo Burnett Delhi's creative director, Rupam Borah: "The script has to be brilliant or else all that the consumers remember is him and not the brand. Most powerful corporates feel that if they can afford the best, then why not. They fail to realise that the one who stands to gain is Mr Bachchan and not the brand."
A celebrity is not an idea, warn advertising experts.