Gold, the safest haven amid the ongoing uncertainty, also emerged as one of the most lucrative investment options in financial year 2022-23 with an impressive return of 16.1 per cent in rupee terms, and 2.3 per cent returns in dollars.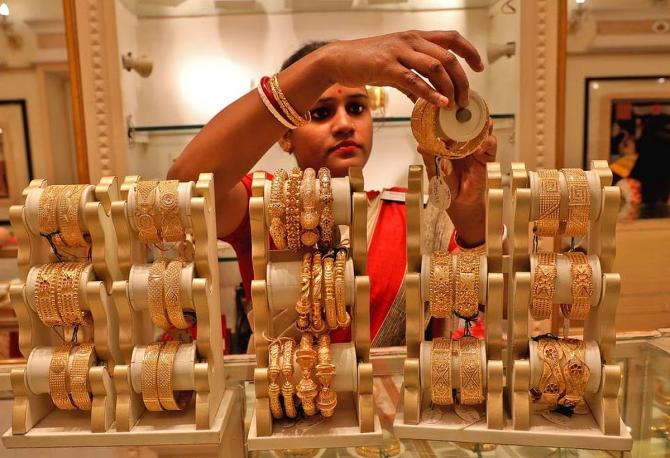 And, had it not been for the very high inflow of smuggled gold and the huge discount prevailing in the market due to high prices, the returns in gold would have been much higher, analysts said.
The precious metal has consistently been delivering positive returns in India since 2016.
In FY22, the yellow metal had offered 16.5 per cent return, while in FY21 it was 2.4 per cent.
And a year before, in FY20, it gave an impressive 35.9 return.
But for equity investors, FY23 wasn't good. Sensex rose 0.7 per cent, NSE fell by 0.6 per cent.
FY22, however, was good as both the benchmark indices soared over 18 per cent.
Analysts, meanwhile, believe that the recovery in the gold's prices will continue, but for Indian investors, the movement of the dollar-rupee rate is expected to be a key determinant and is likely to limit the gains.
Gold prices have recovered in the later part of FY23, albeit with volatility, following rising inflation globally due to the Russia-Ukraine war, concerns about economic growth and bank failures in the US.
And will gold prices continue to rise?
Nigam Arora, US-based algorithm expert and author of Arora report, said: "There are two scenarios in which gold can reasonably hit not only a new all-time high but also move substantially higher in 2023.
"One is an economic scenario and the other is a geopolitical scenario.
"And both hint at higher gold prices.
"A lot hinges on whether inflation in the US stays above four per cent and the Federal Reserve effectively gives up its target of bringing inflation down to two per cent.
"This could happen if there is intense political pressure on the Fed or if the US economy enters recession or suffers a banking crisis.
"If the Fed starts cutting interest rates while inflation is still high, gold may see an accelerated move higher," Arora said.
On the geopolitical front, Arora says if China attacks Taiwan and if the US decides to defend Taiwan, gold prices could shoot up.
On the other hand, if Washington does not defend Taiwan, expect a quick move up and a quick retracement in the price of gold.
Back home, the Indian government had raised import duty on gold from 12.5 per cent to 15 per cent to limit its import, which stood at $41.2 billion in FY22, but fell to $31.7 billion in the first 11 months of FY23.
The dip came after higher duty was imposed.
The import bill declined by $16 billion between July 2022 and February 2023.
But some official imports were diverted to the unofficial route and about 100 tonnes of gold are understood to have entered India clandestinely.
This gold is sold in the market at a huge discount because it doesn't attract import duty.
The discount at one time was $89-90, and is now $30-40 an ounce or about Rs 1,000 per 10 grams.
Gnanasekar Thiagarajan, owner, Commtrendz Research and Fund Management, sees the gold rally continuing globally but says the upside will be limited in Indian rupee terms.
"The economic and political uncertainties that lead to a rally in gold, are likely to continue as the Fed has not yet indicated a peak in interest rates.
"The banking crisis, triggered largely by continuous hikes in the US rates, has led to bleeding bond portfolios and only large banks can survive these losses, the rest could belly up.
"Hence the crisis is unlikely to end soon.
"This scenario will keep safe haven appeal for gold intact," Thiagarajan said.
But in case the dollar weakens, Thiagarajan adds, "(It) is expected to support gold prices going forward. But due to this phenomenon, the Indian rupee may not depreciate much and is, in fact, likely to rise.
"Upcoming state and Lok Sabha elections are expected to see more inflows into the country as has been the trend so far prior to the polls.
"So, though gold prices could soar abroad, the upside could be relatively lower in domestic prices."
There is a rider too for the rally in gold prices.
If the scenarios favour gold, there have to be buyers for the metal.
Global institutional investors and physical market buyers in India and China are big buyers.
Debajit Saha, Lead Analyst–Metals Research, LSEG said that as of now speculation has prevailed over fundamentals.
"The possibility of gold hitting a new high in the current run cannot be entirely ruled out as extreme speculation is in place.
"But fundamentally, it appears that value investors would prefer to stay away and wait for the price to stabilise.
"We believe gold may settle around $1,875/oz in the next few weeks, while in the medium term, they may average about $1,760/oz."