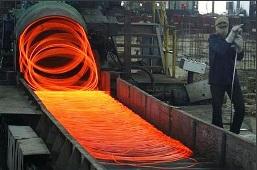 At a time when the mining sector in Karnataka seems to be getting back on track, the steel sector faces another hurdle -- pricing.

With global steel prices on a downswing, owing to low raw material rates, Indian companies are taking a hit on margins because of rising local iron ore rates.

Domestic companies have also been forced to cut prices.

In August, steel makers reduced prices by two to three per cent, not because of a slowdown in demand, but because of cheaper steel brought from Japan, Korea and China. As coking coal rates halve and iron ore rates stand at about $110 a tonne, companies see a severe impact on their bottom lines.

Analysts don't expect margins of steel companies to improve before next year.

NMDC, the largest domestic iron ore supplier for the majority of steelmakers in India, has increased rates twice this year, the last rise being one of 8-13 per cent.

This had forced the Sponge Iron Manufacturers Association, whose members include Essar Steel, Jindal Steel and Power, Monnet Ispat and JSW Steel, to appeal to the steel minister to intervene and save the sector.

Earlier, companies had banked on a revival in steel demand this year to boost margins and profits.

Now, however, that seems unlikely, as low global prices are leading to local producers reducing prices as well.

And, to match imported steel rates, more price cuts are likely in the near future.

According to data made available by the Joint Plant Committee, the government body that tracks steel demand-supply in India, the April-August period saw a 53 per cent rise in steel imports.

This year, imports could stand at about eight million tonnes, 10 per cent of India's steel demand.

An official at a leading steel manufacturing company said, "Now, rather than China, we are more concerned about Japan and Korea.

"The two have been exporting steel to India at low rates, and we have no option but to cut rates and take a margin hit."

Earlier, JSW Steel chairman and managing director Sajjan Jindal, had opposed the free trade agreements with Japan and Korea, saying the FTAs with these countries
was hurting domestic steel companies, as these were leading low steel prices.
The steel minister, however, turned down the demand and categorically stated steel would remain a part of FTAs with Korea and Japan.
An FTA with a country results in duties on products from that country being cut sharply (even zero duties in certain cases).
In a note on September 7, Rashi Chopra of Citi Research stated, "The Indian steel industry is not immune to the global/domestic slowdown.
"We forecast steel consumption growth of 5.2 per cent in FY13 (5.5 per cent in FY12), high imports and pricing pressure."
While steel consumption rose nine per cent annually in the April-June period, in July, growth slowed to five per cent.
After 2009, the steel sector saw prices of raw material like coking coal and iron ore soar to $300 a tonne and about $200 a tonne, respectively.
The demand scenario, too, did not offer any comfort to the sector. Last year, the ban on iron ore mining crippled steel production for companies like JSW Steel, and most sponge iron makers shut shop.
Even today, they are out of business.
Though steel demand since April has been about 6.9 per cent, price erosion and depreciation in the rupee have taken away any gain the companies had expected from low raw material rates.
Chopra said steel prices in India were under pressure. "Long product prices have come off three to four per cent since July.
"Demand/pricing for flat products is also weakening," she said.
In its report on September 5, Enam Research stated, "Average realisation will moderate in the second quarter due to weak demand and a sharp fall in global steel prices.
"Overall, profitability of Indian steel companies in the second quarter would be lower than in the first.
"We believe production cuts, re-stocking and potential stimulus in China would lead to a recovery in global steel and raw material prices from the fourth quarter."
Domestic steel companies have failed to avail of low raw material rates in the second quarter.
Now, with prices of raw materials like coking coal and iron ore expected to rise in the fourth quarter, the steel sector can only expect squeezed margins.