Every move that strengthens Cyrus Mistry's position in companies like Indian Hotels could prolong the uncertainty, reports N Sundersha Subramanian/Business Standard.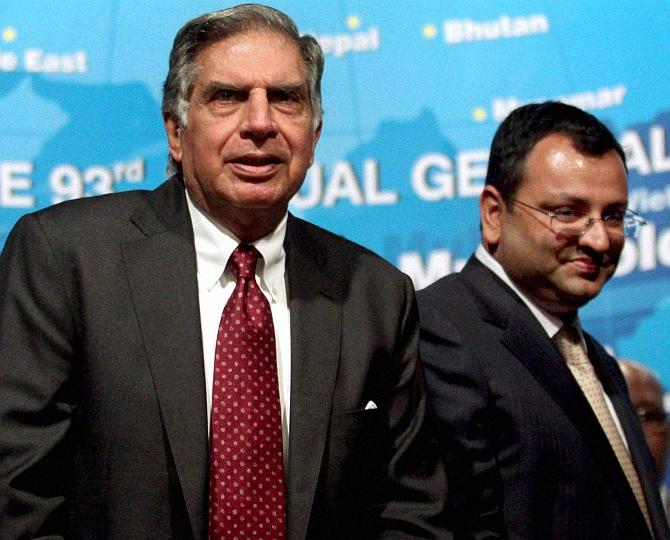 The stunning events of last week, when the independent directors of Indian Hotels put on display their well developed spines and Bombay House security guards their undertrained brains, might have irrevocably changed equations in this big stakes corporate war.
Every such move that strengthens Cyrus Mistry's position in companies like Indian Hotels, which own Tata Sons shares, could prolong the uncertainty.
Similar decisions by boards of other operating companies holding Tata Sons shares could mean the Mistry family might be able to punch above the 18 per cent they directly own in the mother ship.
Will they be able to cross the 25 per cent mark needed to derail special resolutions? Only these coming board meets would tell.
Even North Block, which was taking things easy in the first week, was seen wanting to make the right noises, asking Life Insurance Corporation and others to do their duties.
As the result board meets turn into little Panipats as predicted by this paper early last week, one of the more critical ones is scheduled for November 14.
Tata Motors has American Depository Receipts listed in the US. Some 11 per cent of Tata Motors is with these ADR holders.
The ADRs have fallen from $41 levels to $37 in the past two weeks.
This loss of value, which could be directly attributed to recent promoter decisions and revelations by Mistry, still the company's chairman, including alleged related party transactions and potential insider trading violations, could put the management and board in a tight spot.
Much tighter than they find themselves in India.
The securities regulations in the US are much more stringent, activist investors are more aggressive and specialist lawyers are on the prowl for class action suits.
The experience of Satyam demonstrated the wide cleavage in the investor protection regimes in the two countries.
While Indian laws and enforcement agencies were found wanting after years of trying, American regulators, including the Securities and Exchange Commission and the Public Accounts Authority, were able to bring charges on the board, management and the accountants, and extract settlement claims of millions of dollars.
Former McKinsey chief Rajat Gupta was required to serve a jail sentence for stepping out of Goldman Sachs board meets and sharing information.
Mistry's letter alleged similar behaviour by some Tata directors.
In 2014, Tata Motors itself was the target of activist investors Knight Assets and Oasis Capital, which demanded listing of Class-A shares in the US.
What these investors will do now would be interesting to watch.
All these make the job of the Tata Motors board, especially the independent directors, a bit trickier than others. These informed investors and strict regulators would expect a bit more than the blanket 'standing by Mistry' statements, as in the Indian Hotels case.
They would expect the independent directors to discuss the issues raised, with a bit more clarity and granularity.
They would also expect the board to explain the alleged related party transactions involving companies in which Ratan Tata has interests.
They would also expect their chairman, Mistry, to communicate to them officially and directly, not through confidential letters leaked to the press.
If things get to an extraordinary general meeting, the ADR holders would not be able to vote directly. They would need to instruct the custodian, Citibank.
If no such directives are received, the custodian would vote on instructions of the management.
Whose side is the management on even as Trump versus Clinton draws to a close, Americans can rest assured that the entertainment would continue for some more time, with Tata and Mistry filling in.