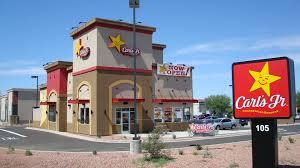 Come April, Indians will have the choice to taste charbroiled burgers by Carl's Jr -- a brand that has been endorsed by the likes of Paris Hilton, Kim Kardashian and Padma Lakshmi.
California-based premium burger chain, Carl's Jr, which is known for its signature line of charbroiled thickburgers and is among the top 10 quick service restaurants chains globally, is set to enter India, with the first outlet to be opened here by April next year.

The American fast-food chain has already signed a franchisee agreement with city-based Cybiz BrightStar Restaurants Pvt Ltd, owned by CybizCorp.

Over the next five years, there would be at least 100 Carl's Jr outlets in India, said Sam Chopra, group chairman and founder of CybizCorp The chain targets to open about 1,000 outlets across India over 10-15 years.

Carl's Jr joins the race with the world's second largest burger chain Burger King, which had formed a joint venture with private equity fund Everstone Capital last year to develop its presence in India and plans to open the first outlet soon.

Besides, its rival, Fatburger has already opened its first outlet in Gurgaon, near Delhi recently.

"It is a burger that is delivered in just three minutes after the order is placed.

"And, we deliver it fresh.

"Nothing is prepared before hand," said Chopra, adding that he would, for the first couple of years, focus on the northern market.

The chain would spend about $25 million (about Rs 150 crore) in the first five years in developing a presence in India.

CKE Restaurant Holdings, the parent company of Carl's Jr, had already invested $1.5 million in India in consumer research, product development and tasting trials during the past three years, Chopra said.

While most of the funds would be arranged internally, Cybiz BrightStar Restaurants Pvt Ltd is also in talks with private equity firms to dilute about 25 per cent in the company that would be used in part, to finance the projected expenses, Chopra said.

"A deal is expected within the next three to six months," he added.

"We target ticket size at Rs 400.

"We'll not offer beef in India, and for the first time in Carl's Jr history, vegetarian burger, with six varieties, will be introduced.

Over the next few years, we may also look at taking vegetarian burgers to other countries," Chopra said, adding that Carl's Jr will not target the mass market.

Sales of Rs 250,000 a day an outlet would make the venture viable, he said.

Chopra believes that the time is right for a 'premium burger quick-service restaurant' such as Carl's Jr to enter India.

"As we are witnessing a burger revolution in our country, a parallel phenomenon that was witnessed in the pizzas and pasta category a decade back," he added.

Besides India, Carl's Jr has recently entered new markets like Brazil, Canada, Costa Rica, Denmark, Ecuador, New Zealand and the Bahamas.

Over the past decade and a half, a handful of quick-service restaurants have made a beeline for India, including McDonald's, Yum Brands -- the owner of restaurants such as Pizza Hut, KFC and Taco Bell- and Subway.

Retail consultancy firm Technopak, in a recent report, noted that the Indian food service market will soar to $92 billion (Rs 5.52 lakh crore) by 2020 from $48 billion (Rs 2.88 lakh crore).

Of this, the $3-billion (Rs 18,000-crore) chained restaurant segment is expected to see the fastest growth rate of 15 per cent, with the size pegged to touch $8 billion (Rs 48,000 crore) by 2020.