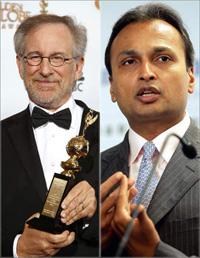 The Reliance-Anil Dhirubhai Ambani Group is all set to get into Hollywood's big bucks league. DreamWorks Studios, a joint venture between Steven Spielberg and Stacey Snider, along with the ADA Group, will fork out $250-300 million (Rs 1,150-1,385 crore) to make Martin Luther King, Jr.
The screenplay will be written by acclaimed screenwriter and Academy award winner, Ronald Harwood.
According to sources close to the deal, the budget for the film is more or less as much as blockbuster Avatar, for which James Cameron spent over $300 million, making it the costliest film ever made in the industry.
The sci-fi movie has already blazed the box office, raking in over $1.3 billion (nearly Rs 6,000 crore) across the world. Steven Spielberg, Suzanne de Passe and Madison Jones will produce the film about the renowned civil rights leader.
The DreamWorks film will be the first theatrical motion picture to be authorised by The King Estate to utilise the intellectual property of Dr King to create the definitive portrait of his life. Dr King copyrighted his speeches, books and famous works during his lifetime.
Plans to make the film were initially announced in May last year and DreamWorks said that it had acquired life rights over King, which would have made it the first authoritative biographical movie on the man authorised by his estate.
However, differences between King's three children had virtually derailed the project, which is now back on track yet again.
Last year, the Reliance-ADA Group, in a joint statement with DreamWorks' promoters Spielberg and Snider, announced the completion of the first phase of funding for their new motion picture company based in Los Angeles, California.
They also announced that JPMorgan Securities had arranged the syndication of approximately $325 million (nearly Rs 1,500 crore) of senior debt, which Reliance Big Entertainment would match with its equity commitment. The Walt Disney Studios, which will handle marketing and distribution for the studio, will also extend a loan to DreamWorks as part of the distribution deal.
The ADA group had promised funding to the extent of $835 million (over Rs 3,800 crore) for three years to DreamWorks. The debt financing was led by JPMorgan, who brought together other lenders for the first wave of funds.
Participants included Bank of America, City National Bank, Wells Fargo, Comerica, Union Bank of California, SunTrust, California Bank & Trust and Israel Discount Bank.
DreamWorks has a long-term distribution deal with The Walt Disney Studios, which will market and distribute approximately six live-action films a year for the company, except for India where Reliance Big Entertainment will retain distribution rights. The first release under Disney's Touchstone banner is expected in 2010.
The ADA Group has also agreed to provide development funds to eight leading creative forces in Hollywood, which include Nicolas Cage's Saturn Productions, Jim Carrey's JC23 Entertainment, George Clooney's Smokehouse Productions, Chris Columbus' 1492 Pictures, Tom Hanks' Playtone Productions, Brad Pitt's Plan B Entertainment and Jay Roach's Everyman Pictures.
The deals provide for the creation of a development silo for each of the production entities and the possibility of Reliance co-financing projects that emanate from these development deals. For any green-lit projects utilising Reliance's co-finance, the film makers will enjoy full creative and financial freedom.
Martin Luther King, Jr was born in Atlanta, Georgia in 1929. He became a civil rights activist early in his career as a pastor. He led the Montgomery bus boycott in 1955, and helped found the Southern Christian Leadership Conference in 1957.
His pioneering efforts to deliver racial equality through civil disobedience and other non-violent means led to the March on Washington in 1963, at which he delivered his renowned 'I Have a Dream' speech.
In 1964, he became the youngest person to receive the Nobel Peace Prize for his work to end racial segregation and racial discrimination.
He was posthumously awarded the Presidential Medal of Freedom in 1977 and the Congressional Gold Medal in 2004. Dr King was assassinated in April 1968 at Memphis, Tennessee, at the age of 39.