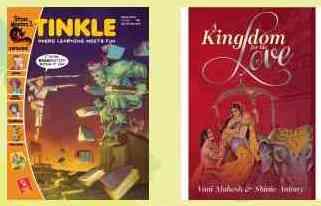 A year shy of its 50th birthday, the iconic brand looks to bridge the gap with a new generation of children
Storyteller to generations of Indians, Amar Chitra Katha, is busy reinventing itself.
Close to five years after its digital foray, it has come out with a new YouTube channel dedicated to stories from its magazine Tinkle and is working with game developers to tell stories that are in tune with the times, in an interactive fashion.
Manas Mohan, CEO Publishing, Amar Chitra Katha says, "My business is telling a story. I am not concerned with the medium in which people read it."
The company has tied up with augmented reality app, Blippar and in January, it tied up with Nazara Games to develop mobile-based games.
However an online multiplayer game Katha, it launched in 2009, had to be taken off the market because the company says it was ahead of its time.
ACK is upbeat about its efforts to beat its competitors in the digital space.
However, the big challenge is beating piracy and convincing users to pay for content. Many have struggled to do that.
Mohan says that when it comes to Indian content, quality is an issue.
ACK will not only go for high production values, it will also focus on developing and packaging its print products such that it better suits the tastes of its target audience.
It spends about 10-12 per cent of its turnover on building the brand, he informs.
Keeping it easy and uncomplicated
"The way we tell stories has a unique style, not just the words, but also pictures," says Mohan.
What he means is that the stories -- both in the graphic novels and the magazines -- are told simply and presented in a manner that every child can understand them.
This will continue to be the brand's core promise.
For instance, neither the new books nor the films or the games being developed deal with death, illness, sex and violence, Mohan says.
It has also stuck to the formula with the two full length animated films it has produced so far — Tripura and Sons of Ram.
A similar value system is visible with the newly launched YouTube channel on Suppandi and friends.
The channel has 49 videos currently which will go up to 120, by July this year. Mohan says, "We are now going to be very powerful on the AV space.
"We are very clear that is the way ahead."
The brand's next frontier is television and "right now and we are in discussions for a linear television programme" he adds.
To push its digital content, the company plans to harness its database of around five lakh children, which is growing at 25,000-50,000 per month. ACK also recently introduced a library app which lets users borrow (online) books for a limited period at a very low price.
The company is still beta testing it.
New stories, many languages
For Tinkle, among the top five English magazines in the country today with sales of about 300,000 copies a month, the company is introducing stories and characters that are better aligned to modern-day preferences.
In its thirty fifth edition (November 2015), a new super hero Wingstar, a 13-year old girl from the North-east, was launched.
"The idea is to keep up. Right now the trend is to go for super star characters," says Mohan.
Tinkle's readership, according to the company, is around 3.5 to four kids per copy and it currently sells about 300,000 copies cumulatively, including the Tinkle Digest and the character-based magazines.
The company has also launched the magazine in Hindi and Tamil.
ACK's sales are largely from its network of retail outlets.
About 65 per cent of total sales take place at offline retail stores while e-commerce accounts for around 25 per cent of the business.
The rest is from direct sales to schools.
The company, currently engaged with 1,200 schools, is increasing its engagement and the number of schools on the list because with "about 2.5 crore (25 million) kids coming into school every year" it is a large market.
It is looking to build its brand among this community.
ACK is bullish on the books business, given that it has managed to beat back some of the challenges it faced a decade ago.
In 2000, ACK had hit a roadblock as finances had become a challenge and founder Uncle Pai's health had deteriorated.
In 2011, the Kishore Biyani-led Future Group took majority control and the brand was given a fresh lease of life.
The company has published nearly 50-odd titles in the last five years.
The company realised that with more disposable income, parents buy five to 20 titles at a time.
So instead of 32-page books (as was the norm earlier), the company moved to 120-240 page books.
Also, Mohan says, "Our production and paper quality is better, the colouring is more complicated and mostly our books are hardbound."
He hopes that these efforts will pay off in the near future, helping ACK connect with a new generation of readers in the real and the virtual world.
A new avatar
Nearly 50% of all ACK titles available on its app
400 issues of popular magazine, Tinkle, can be read online
Tinkle Hindi and Tamil launched
Mobile-based games to be up soon, YouTube channels launched