Nilekani is an organised person and his strength is simplification of complex ideas, said Murthy.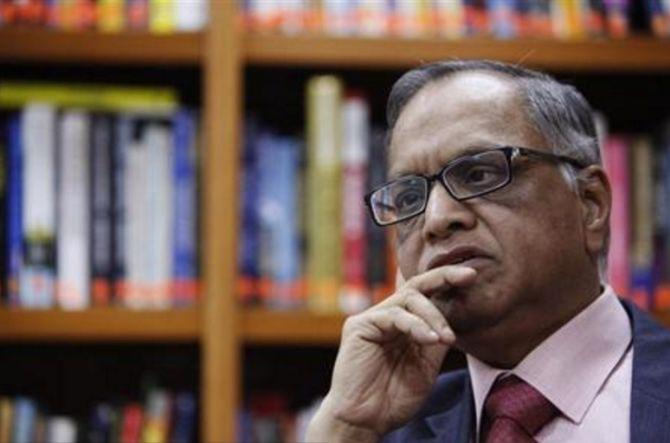 Infosys co-founder N R Narayana Murthy has buried any qualms he had regarding corporate governance issues during former chief executive officer Vishal Sikka's tenure.
"Absolutely, all is well," Murthy said on Wednesday.
"I said in my speech to the investors that now we have Nandan (Nilekani) as the chairman, we can all sleep well.
"He is an organised person and his strength is simplification of complex ideas.
"There were lots of complexities and, therefore, he has his hands full. Now, let's leave it to him. Also, let us all keep quiet so that he does his job well."
Murthy was at the firm's Bengaluru campus to announce the winners of Infosys Science Foundation awards along with Nilekani and other co-founders Kris Gopalakrishnan and K Dinesh.
Nilekani returned to Infosys in August to assuage investors who were fleeing in the midst of a public spat between Murthy and the board led by R Seshasayee, following Sikka's resignation.
Murthy had raised concerns over governance failure after the firm acquired Israeli Panaya.
He also raised issues with the severance pay to Rajiv Bansal, its former chief financial officer.
The firm commissioned an independent forensic investigation on the allegations, raised by an anonymous whistle-blower.
The probe report found no wrong doing by either Sikka or other members of Infosys.
Murthy, however, insisted the report be made public, which Infosys said it would not, citing confidentiality reasons.
Nilekani, who studied the report, also gave a clean chit to Sikka.
Murthy, who reacted with dismay after Nilekani's clean chit, had said "we will no longer know the truth" about the investigations.
However, it was known that there will not be any public spat between Nilekani and Murthy.
The board led by Nilekani, too, maintained that publishing additional details would affect Infosys' ability to conduct future probes and also affect confidentiality of whistle-blowers.
On the search for the next CEO, Murthy said: "Nandan himself has been a CEO and he knows what he requires and there is no need for advice."
Though the company has not made any announcement on the next probable CEO candidate, people familiar with the search process have said Infosys reached out to former senior executives such as B G Srinivas, Ashok Vemuri and considered a few internal names already.
Vemuri, however, has since made it clear that he is not in the fray for the top job.
Photograph: Vivek Prakash/Reuters