Harrods, the iconic London store, has been sold by Mohammed Al-Fayed to Qatar's royal family for pound 1.5 billion. Al-Fayed, 77, had bought Harrods in 1985 for pound 615 million. According to media reports here, he will go into retirement once the sale is completed.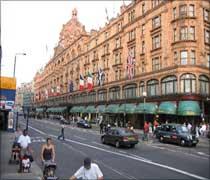 According to The Sunday Times Rich List, Al-Fayed and his family are worth about pound 650 million and share the 94th position with three others in this coveted list of the 1,000 richest people in Britain. Clearly the windfall from this sale should push Al-Fayed and his family further up the list.
Harrods is famous for luxury and premium products, and is the favourite shopping destination for the rich and affluent in the British society. For many who cannot afford to shop here, the sight of the dark green shopping bag with Harrods written in gold holds tremendous aspirational value.
Harrods shares the same level of tourist interests as the Big Ben, Westminster and Madame Tussauds wax museum. Courtesy shopping at Harrods finds a place in most visitors' itinerary, even if the value of shopping is modest.
The reason for the sale is not clear yet. The store is spread over 4.5 acres and is estimated to have over one million square feet of selling space in over 330 departments and employs over 5,000 people. The economic downturn until last year hardly dented the fortunes of Harrods.
The Knightsbridge store in south-west London reported a record pound 752 million in sales in 2008-09. The net assets of Harrods are worth pound 500 million, according to The Sunday Times Rich List 2010.