Uttar Pradesh Chief Minister Akhilesh Yadav plans to visit the United States to seek investments for India's most populous state.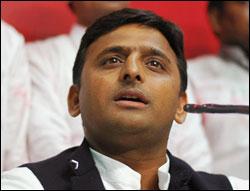 This follows a meeting of the chief minister with a delegation of US India Business Council (USIBC) that called on him at the former's official residence at Kalidass Marg in Lucknow on Friday. The delegation was led by USIBC chairman Ajay Banga and his deputy Ron Somers.
Apprising them of the measures taken by his government to improve the state's infrastructure to attract investment, the chief minister expressed his inclination to undertake the US trip sometime in January 2013.  This would be the first official visit by any UP chief minister to the US in many years.
A team of top government officials led by state chief secretary Alok Ranjan told the delegation about the new government's industrial and infrastructure development policy.
According to an official spokesman, it was also decided that some sectors would be identified for investment through which industry could be set up in minimum time.
Also present at the meeting were Health and Family Welfare Minister Ahmad Hasan and Deputy Chairman of the State Planning Commission N C Bajpai, industrial and infrastructure development commissioner Anil Kumar Gupta, principal secretary to the CM Rakesh Garg and principal secretary (small industries) Mukul Singhal among others.