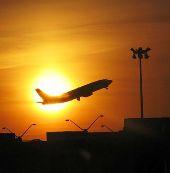 Uncertainty still hangs over the final choice of the site for an ambitious greenfield airport project in Arunachal Pradesh as Karsingsa, where a foundation stone for the project was laid four years back, is being reconsidered.

Two sites for the location of the airport had earlier been rejected, one of them being Imchi near Gumto, which was cancelled on account of being a riverbed and not having an even ground.

The other choice was Poma which was also ruled out for being a place where clouds hover at all time.

The two sites having been rejected, Karsingsa, 25 km from Itanagar, was next selected as the site for the airport and the foundation stone was laid on February 20, 2007 by then Union Home Minister Shivraj Patil with the assurance of full support from the Centre.

The Defence Ministry and the state government had reached an agreement that prior to the commencement of the operation of passenger flights, representatives of the Indian Air Force would be involved in establishing the airspace coordination procedures on June 30, 2007.

After all official procedures were completed for the acquisition of land with a green signal from the local people and when the actual work was to start, it was suddenly
announced that Hollongi was being considered as the new 'probable' site.
The reason cited was that Karsingsa would be 'a costly affair' as more earth cutting would be involved as pointed out by the executing agency -- the Airport Authority of India, Civil Aviation Commissioner Hage Khoda said.
According to the AAI, the expenditure for the project will surpass the budget for the project.
"The Ministry of Civil Aviation has been since looking for an alternative site," Khoda said.
The proposed airport will have a 1700 x 30 metre runway covering 250 hectares of forest land.
It would be set up 400m x 45 metres away from the NH52 A along the natural contour and would handle three flights in a day with a capacity of 75 passengers each.
The place where the foundation stone was laid was damaged some years back by wild elephants. The hunt for the site had started in 1985.
However, Khoda said the state government had written to the Ministry of Civil Aviation recently to reconsider the earlier site at Karsingsa, arguing that the site at Hollongi may not be feasible for the construction as compensation pay-out would be much higher.
Also, it would be a time consuming affair to go through all the formalities again, which have been already completed for the Karsingsa site, Khoda said.