IndiGo extends services to its passengers for additional fee of Rs 600 at Delhi, Hyderabad and Bangalore.

Now, domestic passengers flying on low-cost carriers could also avail of the services of an airport lounge - something that had so far been an exclusive privilege of frequent flyers and those with business-class tags.
The country's largest airline, IndiGo, a low-cost carrier (LCC), is planning to offer passengers for a small fee the option of using lounges at airports in Delhi, Hyderabad and Bangalore airports, to begin with. The flyers would have to fork out around Rs 600 to use these facilities at the three airports; they could avail of it from two hours before the flight's departure from the airport.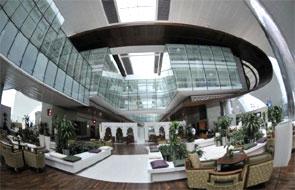 IndiGo confirmed it was exploring the possibility. At present, the airline offers lounge services to its passengers travelling on international flights from Delhi.
The move has come close on the heels of the civil aviation ministry allowing airlines to unbundle some services and charge extra for those. Apart from charging for preferred seats, the ministry has also allowed airlines to offer to passengers lounge facilities for a fee.
IndiGo passengers, according to travel agents, would be given the option of pre-booking the services on the internet, or just walking into the lounge with their boarding passes, to avail of the facility.
Only a few days back, IndiGo had become the first of the block to charge an additional fee of Rs 200 for each window and aisle seat on domestic flights, and Rs 300 for these preferential seats on international flights. For seats in the front row or next to the emergency exit - both with more leg space - customers would have to fork out an additional Rs 500 and Rs 800 on domestic and international routes, respectively.
Air India, too, is said to be making changes to its software to charge flyers for pre-booking. Also, both Jet Airways and Air India have reduced their free-baggage limit to 15 kg (from 20 kg) on domestic routes. Starting next week, passengers travelling economy class on both airlines would have to pay Rs 250 for every kg of extra check-in baggage.
The ministry had last month allowed Indian airlines to unbundle certain services and charge for those separately. The decision is expected to open additional revenue streams for airlines - from check-in baggage and use of lounges by economy-class passengers for a fee to carriage of sports or musical equipment - which have been struggling to maintain operations sustainably in an environment of wafer-thin margins.
According to the Centre for Asia Pacific Aviation, the Indian airlines are set to earn ancillary revenues of $500 million a year after unbundling of services.