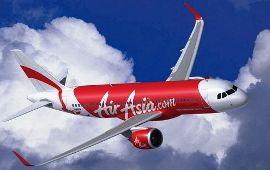 Air Asia's maverick promoter, Tony Fernandes, has made no bones about saying that he will replicate his winning model in India.

By simply playing on price, and offering rock-bottom fares that vary from half to a fifth of that of its rivals, he has built a reputed airlines brand in Southeast Asia.

While his intention to make price the "number one differentiator" in India may be common knowledge, the tarmac ahead is paved differently from AirAsia's home market.

India might hold a few surprises for Fernandes and the just-appointed AirAsia India CEO Mittu Chandilya who are looking to play price warriors.

Fernandes says of Chandilya in a tweet: "Mittu is coming. . .to change Indian travel and make it affordable for all Indians to fly."

Low-cost carriers in India say they do not expect AirAsia to commit hara-kiri in the domestic skies, what with net average fares already in the low range of Rs 4,000-4500 per passenger.

They point out that AirAsia would have learnt – from its not-too-successful debut in India through their international operations -- that low-cost fares, which it offers in Malaysia, are unsustainable in India.

LCCs will, however, brace for average net fares to go down by 8-10 per cent because AirAsia is expected to begin operations with rock-bottom promotional fares for a few seats.

"Such fares can only be promotional in nature in India and can't be sustained for long.

"Even we will bring down prices. But we are not worried," says a top executive of a leading LCC in the country.

But AirAsia's signature is its mega low-cost fare. For instance, it is offering two million seats for travel to Southeast Asia at fares which are available for as low as 30 per cent of its regular fare.

Yet, for domestic passengers in India, there is no novelty in such a scheme anymore.

After all, domestic LCCs have used a similar marketing tack to get passengers to fly in the lean seasons.

SpiceJet kicked off a price war, a few months ago, by slashing fares for one-way travel across the country, down to a consolidated Rs 2,013, inclusive of all taxes.

The offer of one million such one-way tickets for a limited period soon had other LCCs following suit.

AirAsia's challenge in establishing the brand in India is a classic one. Unlike Malaysia where it did not have competition from other LCCs, its new market has quite a few thriving players.

It is entering when this indigenous competition already controls over 60 per cent of the market. So, for the late entrant, Fernandes' ambition to press 36 aircraft into operation by 2017-18, will still lend it a size that will only
be a third of that of the biggest player, IndiGo.
It will fly over 120 aircraft to as many as 40 cities by then.
Survival in the low-cost air travel space depends on efficiencies.
Companies like IndiGo have become adept at squeezing out operational efficiencies -- it uses its aircraft (flying-time of 12 hours each) and turns around its planes (within 25 minutes) almost as quickly as AirAsia.
So much so that IndiGo has taken on the brand position of being a punctual airline, with a popular campaign focusing on flying and reaching destinations according to the Indigo Standard Time.
AirAsia faces another unusual challenge which it has not faced in its home country, Malaysia.
It did not have to compete with the full-service carrier, Malaysian Airlines.
The latter has not brought down its fares to match AirAsia's and stuck to being a premium airline.
In India, AirAsia will have to take on full-service carriers such as Air India and Jet Airways, too.
These players have dropped fares to take on existing LCCs.
Says a senior executive in a leading LCC, "While our average net fare is Rs 4,000, the ones for Air India and Jet Airways are not more than Rs 4,050-4,100.
"So, not only are we competing with other LCCs, but also battling with full-service carriers for passengers."
The input costs will be steeper for the legendary LCC as well.
AirAsia has leveraged the costs of fuel and airport charges in Malaysia, which are much lower than in India.
A similar advantage will be difficult to spot in India. Fernandes already had made it public that airport costs are too high to fly into Delhi and Mumbai.
Airline executives say that in Malaysia, AirAsia forks out only $2 for airport charges per passenger; in India, airlines shell out over $ 20 for the same.
The airline might find familiar branding grounds in the government's recent permission for Indian airlines to unbundle some features and charge for them.
These would include preferred seats and check-in baggage -- what AirAsia has charged in its other markets so far.
This ancillary revenue is key to AirAsia earning more revenue.
But the Indian LCCs are already onto it, such as IndiGo.
It is also a double-edged sword. AirAsia's strategy to charge for everything from check-in counter service, wheel chairs to the choice of occupying all three seats in a row, if allowed, might meet with a strong negative response from the public.
That is something it can hardly afford.
It might have written the rules that LCCs in India keep going back to, but the timing may keep it from using those very tactics.
Fernandes will either have to create a new brand position or take its present one to a mind-boggling level.