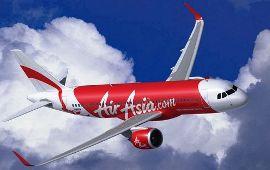 A day after the Tata group announced its joint venture with Singapore Airlines, differences seem to have cropped up among the shareholders of AirAsia.

Arun Bhatia, whose Telestra Tradeplace has a significant 21 per cent stake in AirAsia India, has accused the Tata group of being 'unethical' by keeping him in the dark about the latter's joint venture with Singapore Airlines.

Bhatia also told a website he would raise the matter at AirAsia's board meeting on September 28.

Bhatia's concerns, which he aired on Friday, and AirAsia chief Tony Fernandes' silence on the issue have raised apprehensions in many circles that all was not well between the three major shareholders of AirAsia (Malaysia's AirAsia Bhd holds 49 per cent, the Tatas have 30 per cent) on the issue.

However, a top executive of AirAsia allayed all concerns and said the Indian conglomerate had not violated any clause of the joint venture agreement.

"They had showed their intent for their tie-up with SIA. It is an internal matter.

"Our agreement with them does not say that they have to keep us updated on a day-to-day basis and it is not violative of the shareholders' agreement. Besides, the business models of both are different," the executive added.

A TV channel on Friday quoted Bhatia as saying while he was not looking at walking away from the joint venture, he was ready to buy out Tata Sons' stake.

A Tata group spokesperson said he had no comments on Bhatia's statement to the media.

However, sources close to the Tatas said Bhatia had not made any offer to Tata Sons.

The AirAsia executive said: "The Tatas have to be willing to sell for Bhatia to buy. In any case, it is a small issue and not a big deal."

When the AirAsia deal was in the works, Ratan Tata had personally met Civil Aviation Minister Ajit Singh, accompanied by Fernandes. Tata had also piloted his partner to Delhi.

The Singapore Airlines-Tata deal was announced to Singh by the chairman of the joint venture, Prasad Menon, a director in Tata Industries.

The fresh controversy comes even as questions were being raised about a possible conflict of interest.

The Tata group has denied its investment in two airlines created a conflict of interest.

In India, the distinction between full-service and low-cost
airlines is blurred, with almost all airlines offering matching fares.
Jet Airways, which began as a full-service carrier, had ventured into the low-cost market (with Konnect and JetLite) to respond to the changed market conditions.
Now, about 50 per cent of its capacity is in the low-cost space. Even Kingfisher experimented with both the models, before shutting down operations last year.
AirAsia and Singapore Airlines, which has two low-cost carriers (Scoot and Tiger Air) are locked in intense competition in Australia, China and Southeast Asia. With both airlines keen to start international services from India, competition is expected to get intense.
The Tatas have ruled out conflict of interest.
The group also denied that the creation of two airlines would lead to cannibalisation of traffic.
"There is sufficient distinction (in demand) and that is the reason for Tata Sons to enter into distinct initiatives, with Air Asia in the low-cost carrier segment and with Singapore Airlines in the full-service segment.
Hence, questions of conflict of interest or cannibalisation do not arise. AirAsia India will fly passengers with one set of demands and needs, Tata Sons–Singapore Airlines will fly another set.
When they begin operations, the differentiation, vis-à-vis existing operators in India and also between them, and its positive impact on either set of passengers will become visible," a Tata Sons spokesperson said in an email response.
"Tata Sons does not have common representatives on the boards of the two entities.
"The Tata group's corporate governance practices are such that interests of entities it is party to and that of its partners are assuredly protected."
Analysts, however, have a different take. "The possible cannibalisation between AirAsia India and Singapore Airlines' premium airline is a legitimate concern," said Hong Kong-based analyst Daniel Tsang.
"After all, while IATA (the International Air Transport Association) predicts India's passenger number to triple to 452 million by 2020, around 70 per cent of all air traffic in India is carried by low-cost carriers.
Such ambitious growth also involves the 23 million daily train passengers as a target customer base, who are much more likely to fly on LCCs rather than a premium airline."