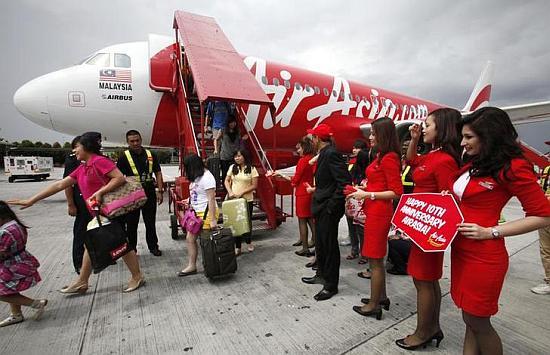 In one of the biggest discounted sale offers, Malaysian carrier AirAsia on Monday put three million (30 lakh) seats up for grab for destinations including India.
As part of this mega sale offer, AirAsia has rolled out fares as low as Rs 3,399 for a Visakhapatnam-Kuala Lumpur and Rs 3,699 for travel on Kochi-Kuala Lumpur sector, the airline said.
The bookings for the seven-days-Big Sale offer begins today for travel period that from September 1 to May 31 next year, AirAsia said.
The highest fares under the sale bonanza have been offered for travel from Kolkata and Bengaluru to Kuala Lumpur at Rs 6,999 for (each sector) while the ticket price for Trichy and Hyderabad have been pegged at Rs 4,699, according to the airline.
Besides, the airline's domestic subsidiary AirAsia India too has rolled out an all inclusive one-way fare starting from as low as Rs 1,390 for flights from Bengaluru to Kochi, Rs 1,690 from Bengaluru to Goa, Rs 3,290 from Bengaluru to Jaipur and Rs 3,490 from Bengaluru to Chandigarh and vice versa, the release said.
"Our amazing Big Sale will allow guests to plan their travel in advance with low fares. We are excited with the immense support and positive response we have received from our guests. At AirAsia India, we are constantly working towards making air travel affordable for every Indian," AirAsia India chief executive Mittu Chandilya said.
In conjunction to the big sale promotion, free seats with zero base fares are also up for grabs for AirAsia Berhad flights from Kuala Lumpur to various destinations across the airline's extensive network, such as Langkawi, Penang, Kota Kinabalu, Bangkok, Bali, Hong Kong, Kalibo (gateway to Boracay), Melbourne, Seoul, Sapporo (transit via Bangkok), Taiwan and many others, the release said.
AirAsia India currently flies from six domestic airports-Bengaluru, Chennai, Kochi, Goa, Chandigarh, Jaipur, Pune.