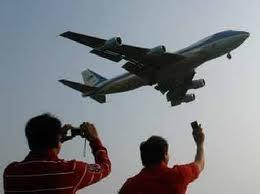 Flagging concerns over violation of safety norms, aviation regulator DGCA on Friday said it has come across instances where safety aspects were compromised.
The remarks by the DGCA head assume significance against the backdrop of rising concerns over safety issues, especially after the recent German Wings plane crash.
"There are a few incidents that are taking place (in domestic aviation sector) mainly because we have been compromising on some of the safety aspects," Director General of Civil Aviation M Sathiyavathy said in New Delhi.
She emphasised on the need for cooperation by all stakeholders to ensure safety and security of the sector.
"After the Mangalore accident, we did not have any major incidents but that does not mean that we should be complacent (about safety)," she said.
An Air Undia Express plane from Dubai with 160 passengers and six crew members onboard had crashed while landing at Mangalore airport in May 2010, leaving 158 passengers dead.
She said that DGCA alone cannot ensure safety of the aviation sector and stressed that all stakeholders, including airlines and airport operators, need to cooperate.
This would help ensure that 'our oversight does not become an interference,' she said.
Expressing satisfaction over the restoration of India's aviation safety upgrade by the US watchdog, FAA, Sathiyavathy said the challenge now is to sustain the top rating.
Sathiyavathy said the International Civil Aviation Organisation would be carrying out a 'comprehensive audit' of the Indian civil aviation sector in November.
"It will cover the entire gamut of civil aviation in the country including aspects of airports, air navigation and traffic control," she said.
The DGCA would be briefing the European Aviation Safety Agency next month about the Indian aviation sector and steps taken after the FAA upgrade.
"We had send a team to Brussels last year after the FAA downgrade to explain them about the steps being taken.
"Now after the FAA upgrade, they have asked us to explain the steps taken and how it is going to be sustained at that level," she noted.
Earlier this month, FAA upgraded India's aviation safety ranking to Category-1. It came more than 14 months after it was downgraded to Category-2 following the failure of DGCA to meet the international safety norms during two safety audits by FAA.
The image is used for representational purpose only. Photograph: Reuters