National carrier Air India owes about Rs 2,000 crore (Rs 20 billion) in jet fuel dues to state-run oil marketing companies without even bank guarantees.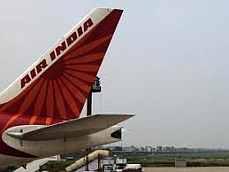 While Air India owes about Rs 300 crore (Rs 3 billion) each to Bharat Petroleum Corp Ltd (BPCL) and Hindustan Petroleum Corp Ltd (HPCL), the airline has to clear Rs 1,250 crore (Rs 12.5 billion) payment to Indian Oil Corp (IOC), according to officials from these companies.

"Air India is unable to pay even after a 90-day credit period. They owe us about Rs 300 crore without interest. There is also no bank guarantee from Air India to any of the oil marketing companies. We do not know when will the company honour its dues," said a BPCL official on condition of anonymity.

Of its dues of Rs 1900 crore (Rs 19 billion) to IOC, Air India has paid about Rs 650 crore (Rs 6.5 billion) so far. "Air India had settled part of the dues and may repay some part of the due by September. Air India will pay us in tranches from the bailout package that the government has decided for the airline," said a senior IOC official, also on condition of anonymity.

Air India's executives could not be contacted despite repeated
attempts.
In April, the government announced it would infuse additional funds into the airline to the tune of Rs 30,000 crore (Rs 300 billion) till over the next nine years. An immediate infusion of Rs 6,750 crore (Rs 67.5 billion) has already been done.
Till early this year, Air India owed over Rs 4,170 crore (Rs 41.7 billion) to public sector oil companies in unpaid jet fuel bills. This February, the three oil marketing companies had snapped supplies of the fuel to Air India for failing to honour payments even after the 90-day credit period.
The matter, however, was resolved after a high-level intervention by officials from the ministries of civil aviation and oil, in which the airline agreed to pay part of the money within 48 hours.
Other than Air India, Kingfisher Airlines owes dues to HPCL for jet fuel. According to an HPCL official, Kingfisher owes around Rs 300 crore to HPCL. In March, HPCL had snapped fuel supplies to Kingfisher, grounding its flights. Till March, Kingfisher had Rs 425 crore outstanding in fuel dues to HPCL.
HPCL is Kingfisher's biggest aviation fuel supplier. While IOC's supplies to Kingfisher Airlines is negligible, BPCL sells fuel to the airlines on a cash-and-carry basis at some airports.