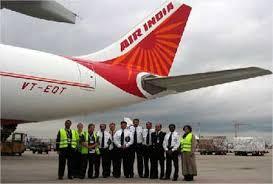 A little over 100 Air India pilots failed to undergo the compulsory bi-annual simulator checks within the stipulated six-month period because of a change in regulations last year, the government airline has said.

These checks, called the pilots proficiency check, have to be undergone twice in 12 months to keep one's licence valid.
An earlier audit of Jet Airways found 131 of its pilots hadn't gone through these in time.
A second large scale violation has come to light in AI.
The Directorate General of Civil Aviation had ordered removal of Jet's training head and issued notices to its head of operations and each of the 131 pilots. However, it is yet to initiate action against AI.

"We are looking into the issue and will decide on the further course of action,'' said a senior DGCA official.

Last April, the regulator issued new regulations, making it mandatory for pilots to undergo simulator checks every six months.

The earlier rules allowed a two-month leeway, meaning the check could be done within eight months but the second one had to then be carried out within four months. However, airlines were flouting this rule and instead of two checks in 12 months, pilots were carrying out two checks in 16 months.
The new rules took effect from September but DGCA in its audit of Jet found that airline was still not adhering to the new norms.
AI sources said the change in rules would have required nearly 800 pilots to carry out the simulator check overnight, which was not possible.
"We are now carrying out simulator checks every six months.
The issue of 100 pilots pertains to last year. In fact DGCA renewed licences for 60 of them. Why is the issue being raised now, when DGCA did not raise objections at the time of licence renewal?'' an AI source asked.

At present, there are no pilots flying without a valid licence, the airline added.

NO KITE FLYING

A pilot needs more than a commercial pilot licence to fly an aircraft. What they need:
Pilots need to undergo simulator checks every 6 months, called pilot proficiency check
Need a route check, which is flying under supervision once a year
Annual refresher training on technical issues
Also training on safety and emergency procedures and crew resource management
Medical examination once or twice a year depending on age
Aviation security and dangerous goods regulation training once in two years