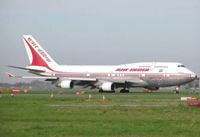 Months after it withdrew from its first international hub at Frankfurt, an Air India team is likely to visit Ireland soon to study the possibility of creating an operational base at the Dublin airport.

"Air India was initially looking at about seven airports to establish its international hub. Later they came down to two and Dublin is one of them," Irish Minister for Transport, Tourism and Sport Leo Varadkar told PTI in New Delhi.

A team from Air India would be visiting Ireland in the 'next six to eight weeks', he said.

Air India had earlier initiated hub operations at Frankfurt but withdrew last year after facing a severe financial crunch.

"We are also looking at establishing direct air links between India, probably Delhi, and Dublin. Discussions are going on with the Government of India," Varadkar, who met Civil Aviation Minister Vayalar Ravi, said.

Talks were 'progressing reasonably well' on a bilateral Air Services Agreement, which could be finalised and signed 'very soon', he said.

Fifth freedom rights, which allow an airline to pick up and fly passengers from one foreign destination to another, were also on agenda.

Besides Air India, the Irish authorities are also holding talks with private Indian carriers to have Dublin as their international hub, he said.

Varadkar, first Indian-origin minister in the Irish government, said the thrust of his discussions with his Indian counterpart was to enhance cooperation in civil aviation to help both Indians travelling to North America and Irish going to Australia and Southeast Asia to stop over at Dublin or Delhi.

"A huge number of Irish travel to Australia and other parts of Asia through the Gulf. Now they will be able to go through Delhi", he said.

Declan Collier, chief executive of the Dublin Airport Authority, who is accompanying the visiting dignitary, said Air India would 'benefit immensely' out of the Irish hub as the airport charges were much lesser than most of the major European airports.

"Dublin is one of the three lowest cost airports in Europe. We are among the bottom three (in terms of airport charges)", he said.

Another major factor in favour of Dublin Airport is that it offers full customs and immigration clearance for passengers going onwards to the US, he said.

The US Customs and Border Protection facilities allow all departing passengers to the US to clear not only US immigration, a service that has been available at Dublin for some time, but also full US customs and agriculture controls.

The passengers can then land at any US airport, collect their luggage and move quickly to their next destination without any further processing requirement, Varadkar said.

Apart from this, there would be 'significant operational benefits' for Air India as it would have 'dedicated passenger, aircraft and cargo handling facilities', the Irish minister said.

Ireland also had an uncongested airspace that would help in less fuel burn and on-time performance of air carriers.