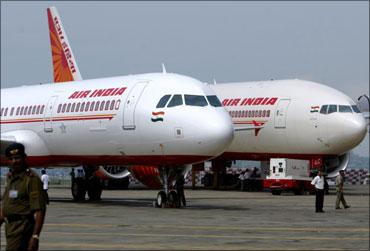 The Civil Aviation Ministry said on Tuesday the management of Air India was empowered to take any decision during staff selection, following reports that some of its Board directors had opposed appointment of Pawan Arora as COO of its low-cost arm Air India Express.

"If there is any controversial appointment, I am sure that Air India management and Air India Board will take a suitable decision.
"It is a question of an Air India employee, so let the Air India management and board take care of these issues," Civil Aviation Minister Praful Patel told reporters in New Delhi.

He was replying to questions on reports that some of Air India's independent directors had raised objections on the appointment of Arora as well as the functioning of its top management.

He asserted that there was 'no controversy' in the board's independent directors meeting top officials in the PMO to discuss the issue on functioning of Air India.

On Monday, the five independent directors of the company -- Anand Mahindra of Mahindra and Mahindra Ltd, Federation of Indian Chambers of Commerce and Industry's secretary general Amit Mitra, Ambuja Realty chairman Harsh Neotia and former air chief Fali H Major -- met Prime Minister's principal secretary T K A Nair and reportedly expressed their anguish over the appointments being made by the company.

They also met Civil Aviation Minister Praful Patel on Tuesday and briefed him about the meeting with Prime Minister office.

"There is no question of any controversy. Independent Directors wanted to meet me and they had courtesy call. They have been on the Board for more than six months and they wanted to share their views with me," Patel said.

Apart from the issue of Air India COO, issues concerning Air India's financial position, debt situation and human resources are also understood to have come up for discussion in the meeting with TKA Nair.

Talking about the equity infusion in the state-run airline, Patel said, "Rs 1,200-crore (Rs 12-billion) equity for Air India is earmarked in this year's budget and it will come up before the Cabinet Committee on Economic Affairs this month".

Air India, which has a debt of an estimated Rs 18,000 crore (Rs 180 billion), has sought recasting of its debt on the lines of Vijay Mallya-owned Kingfisher Airlines, which recently got RBI approval for debt restructuring.

The airline has been working on a financial turnaround plan to enhance revenue and cut losses.

The proposals include tapping of business opportunities by launching a feeder service, called 'India Hopper', with about 40 small aircraft by March next year.

Based on these proposals to tap business opportunities and cut costs, the government is likely to infuse Rs 1,200 crore (Rs 12 billion) as equity to help Air India meet its financial commitments, mostly repaying of loans and interests for aircraft acquisition.

With a renewed surge in air traffic, Air India has improved its finances significantly in terms of revenue and yield.

It has also enhanced savings on fuel by almost Rs 350 crore (Rs 3.5 billion) and returned 16 leased aircraft.