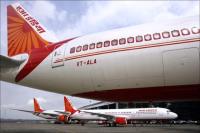 Air India has decided to again recognise the Air Corporation Employees Union that it banned last May following a strike.
The state-owned carrier took the decision last month, but elected office bearers of the union are protesting, alleging the management issued the letter granting recognition to an employee who is not a full-time staffer.
The ACEU was derecognised after the airline's ground staff and cabin crew went on strike on May 26 last year, two days after the Mangalore air crash.
The union challenged the airline's decision in the Delhi High Court.
On August 16, the airline's lawyer told the court about the airline's decision to recognise the union, said J B Kadian, ACEU's general secretary.
"One day prior to the hearing, the airline's executive director (industrial relations), Vineeta Bhandari, issued the letter granting recognition. The letter was addressed to Arun Kumar Malhotra, general secretary, ACEU," Kadian said.
"Malhotra went on deputation to the central government a few years ago and he does not receive his salary from the airline.
"The management is playing games. It misrepresented before the high court. We are taking legal opinion on the issue, and will bring this to the attention of the court. Malhotra is not even a member of the ACEU," Kadian said.
The
airline spokesperson did not respond to an email query.
Malhotra was the general secretary of the union till 2007 when the new central executive committee took charge.
He had challenged the union's election process in the Delhi High Court and disputed the election of Kadian and his group. Currently on deputation with the Punjab government, he is posted in Delhi.
"I am an AI employee. There are 1,500 AI employees on deputation. They can remain union members till they are in service. Kadian and his committee have lost faith of the ACEU members," Malhotra said.
Following the strike last May, the airline sacked 58 union members of the ACEU and All India Aircraft Engineers Association. Subsequently, a few members were taken back, but key office bearers, including ACEU president Dinkar Shetty, general secretary J B Kadian, regional general secretary Vivek Rao and others, were not reinstated.
A couple of months back, the airline issued letters of reinstatement to them, but is yet to take them back.
An airline source said: "With Kadian and ACEU office bearers dismissed, a section of union members have been trying organise the union. They have held signature campaigns, seeking employees' support.
"The management has been encouraging this exercise to split the ACEU which had opposed several of its policies."