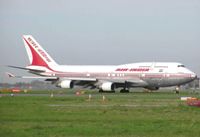 A parliamentary committee said on Thursday the decision to merge national carriers Air India and Indian Airlines was taken in haste, without required consultation and home work.
"As a result, the entire process has, in fact, been unduly delayed, if not derailed," the Parliamentary Standing Committee on Transport, Tourism and Culture has noted.
The committee looked into the merger of the two airlines and its impact on the domestic aviation industry.
"In the process, it has given rise to so many problems concerning financial, administrative and operational, which could not be foreseen by the people who took this decision," the committee said.
The committee, headed by senior politician Sitaram Yechury, felt these inherent contradictions of human resources and aircraft type existing within National Aviation Company of India, the entity formed after the merger, have become a major stumbling block in achieving the required economies of scale and increased leverage.
While Air India has a Boeing-based fleet, Indian Airlines primarily has Airbus jets and the engineers and operating crew of the two carriers are not equipped to service both aircraft types.
Both Air India and Indian Airlines had drawn their own aircraft acquisition plans before the decision on the merger was taken, further impeding the process, the committee noted.