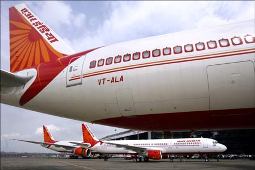 Taking cue from SpiceJet's success in tier-II and III markets, Air India wants to expand its presence on regional routes.

The state-run carrier will shortly invite bids to replace its fleet of 11 ATR-42s and Bombardier CRJ planes with newer fuel-efficient turbo prop planes to improve its operating result.

These planes will be operated by Alliance Air, the airline's regional subsidiary.

"We want to spread wings into regional markets and connect places of tourist importance such as Agra and Varanasi.

"These routes can generate loads of 80 per cent. It will help in improve our revenue and yields. "Airlines are dumping capacity on metros and fares on the routes are market-driven. We will be able to charge higher fares on regional routes," said a senior Air India executive, requesting anonymity.

"The lease of existing planes is expiring in September and we will be taking the planes on operating lease.

"We are considering ATR-72s, BombardierQ400s and CRJs for fleet replacement. Next year, we plan to expand our regional fleet to 15 planes,'' the executive added.

Air India's renewed focus to regional routes comes at a time when Alliance Air withdrew its flights from seven northeast airports, including Tezpur, Lilabari and Shillong, following non-payment of funds by the North Eastern Council (NEC) from January 1.

However, Alliance Air is still operating from Guhawati, Silchar and Imphal. NEC used to finance Alliance Air's operations each year through viability gap funding of Rs 50-60 crore (Rs 500-600 million), in line with a memorandum of understanding between the two.

The national carrier's Ebitda (earnings before interest, taxes, depreciation, and amortisation) turned positive in the December
quarter.
The operating revenue went up Rs 524 crore (Rs 5.24 billion), a 13.5 per cent improvement compared to the year-ago period.
The load factors also improved from 66.5 per cent to 69.5 per cent.
With this, the cash losses were reduced by Rs 511 crore during the quarter.
With SpiceJet's diversified focus on regional and international routes, alongside domestic passengers, it could reap a net profit of Rs 102 crore (Rs 1.02 billion) in the third quarter.
Despite the weak growth in domestic passenger traffic, the airline witnessed 82 per cent growth in the regional passengers.
SpiceJet has deployed 78-seater 15 Bombardier Q 400s connecting smaller cities such as Jabalpur, Tirupati and Hubli.
The regional network constitutes around one-third of over 300 flights it operates a day and nearly 20 per cent of its passengers.
"There does not appear to be a clear cut domestic strategy and Air India has hesitated in launching low-cost subsidiary for fear of cannibalising its parent operations.
"It has small regional fleet dedicated to operations in northeast with no clear market proposition,'' aviation consultancy Centre for Asia Pacific Aviation noted in its recent report on the airline.
The report said Air India would have to order 240-280 planes, including 40-50 regional jets or turbo props, over the next few years to retain its market share.
Not only Air India, even IndiGo is planning to start regional operations with an initial fleet strength of 18-20 ATR turboprops by launching a separate subsidiary company, confirmed a senior civil aviation ministry official, who also preferred anonymity.
At the same time, the civil aviation ministry is to come with new route dispersal guidelines.
The ministry plans to encourage regional connectivity to tier-III and tier- IV cities by auctioning the routes to the airlines.