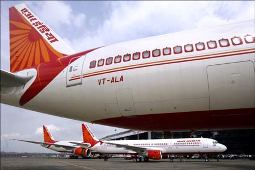 Air India and Kingfisher Airlines jointly owe about Rs 525 crore (Rs 5.25 billion) to GMR-operated airports in Delhi and Hyderabad on account of various airport charges, which was 'severely' affecting on the operations of these airports, a top DIAL officer said on Tuesday.

While Air India owes Rs 450 crore (Rs 4.5 billion), beleaguered Kingfisher Airlines has unpaid dues of Rs 75 crore (Rs 750 million) and both carriers have been put on the cash-and-carry mode of payment.

"Air India has a due of around Rs 450 crore, but we are not getting any payments from them," Sidharath Kapur, Delhi International Airports Limited's chief financial officer, told reporters in New Delhi.

He said cash-strapped Kingfisher was operating flights from Delhi and Hyderabad airports, both operated by GMR-led consortia, by making regular cash and carry payments, though there was no bank guarantee on its behalf.

"The Air India dues, which are high, are severely impacting the airport operations. We are not getting regular payments from Air India, which is also on cash-and-carry
arrangement. We want to resolve the issue in consultation with the government.
"We expect that Air India and the government should immediately make a payment of some lumpsum amount so that we don't get sick," he said, adding DIAL is likely to suffer a loss of around Rs 900-1,000 crore (Rs 9-10 billion) in this financial year.
He said these losses were primarily due to the delay in fixation of airport tariff by the Airport Economic Regulatory Authority.
DIAL has a long-term debt, including foreign borrowings, of Rs 5,300 crore (Rs 53 billion) and is paying an interest at the rate of 10 to 10.5 per cent.
Asked about hike in airport charges, Kapur said, "We hope the AERA accepts our proposal.
Then, on an average, the cost would translate into Rs 350 to 450 per passenger."
DIAL has proposed an almost eight time hike in the airport charges.
While another senior DIAL official said that if AERA approves only 334 per cent hike in airport charges, then as per concessionaire agreement, the government has to fill up the shortfall.