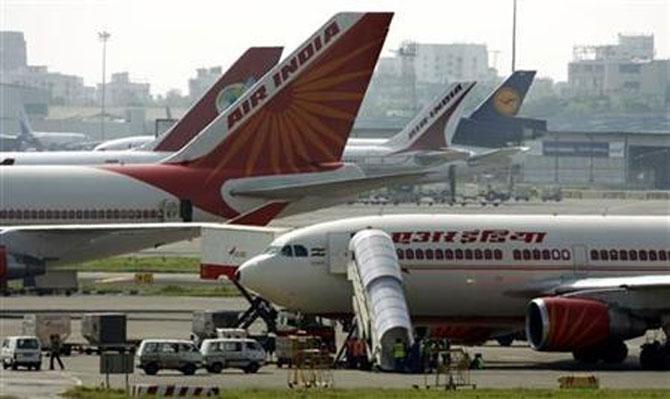 The Supreme Court on Wednesday asked Central Bureau of Investigation to apprise it of the status of its probe, if any, into alleged irregularities in purchase or hiring of 111 aircraft for Air India that had cost about Rs 70,000 crore (Rs 700 billion) to it during the tenure of former Civil Aviation Minister Praful Patel.
A three-judge bench comprising Chief Justice H L Dattu and justices R K Agrawal and Arun Mishra gave two weeks time to CBI for filing a fresh status report in the case.
The court's direction came when lawyer Prashant Bhushan, appearing for non-government organisation Centre for Public Interest Litigation (CPIL), referred to a response received under RTI, of the Civil Aviation Ministry that it cannot part with information on purchase of aircraft as CBI was looking into it.
He said Jitender Bhargava, a former director of Air India who had also written a book on the "downfall" of the carrier, had sought details on acquisition of aircraft and was told that the information cannot be parted with owing to a CBI probe.
The NGO had earlier moved to the apex court against the government and Air India seeking a CBI/SIT probe into alleged irregularities, including purchase of aircraft, and giving up of profit-making routes allegedly to private airlines during the Unites Progressive Alliance rule.
During the hearing on Wednesday, the court considered the submissions of Bhushan and asked the CBI to file a report within two weeks, after the agency sought four weeks time.
Earlier, the court, in September 2012, had issued notice to the government and Air India on the plea of CPIL seeking a CBI/SIT probe into the alleged irregularities.
The plea had alleged that various decisions taken during the tenure of Patel were meant to benefit private airlines and had caused huge loss to Air India.
The NGO had referred to several of Patel's decisions, including the "massive" purchase of 111 aircraft for national airlines costing about Rs 70,000 crore, taking a large number of planes on lease, giving up profit-making routes and timings in favour of private airlines and the merger of Air India and Indian Airlines.
The NGO approached the apex court challenging a Delhi high court order dismissing its plea into the alleged irregularities.