The Tata-SIA combine has plans for global operations, as and when the rules are eased.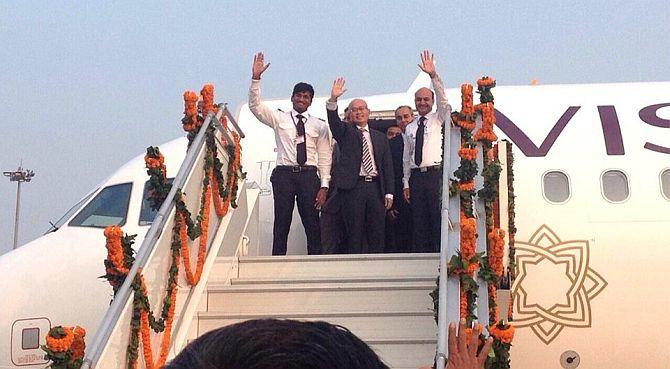 Image: Phee Teik Yeoh, CEO with First Officer Kushal Aggarwal and Captain Rahul Puri, the pilots who flew the first Vistara aircraft from Changi, Singapore to New Delhi. Photograph: Vistara/Facebook
For Vistara, the full-service joint-venture airline of the Tatas and Singapore International Airlines (SIA), the world is going to be the stage, eventually.
Even as the government is looking to scrap the 5-20 rule — domestic carriers need to wait for five years and must have 20 aircraft before they can fly abroad — the airline has made no secret of its desire to have international operations.
There, however, is little clarity yet on strategy and the destinations it might fly to.
Vistara executives do not talk about it officially but informal discussions with those associated with the airline reveal there is a well-thought foreign plan; the blueprint will be known after the rules have been changed.
The speed of implementation will depend on the final shape of the new policy. If scrapping of the 5-20 rule and permission to fly abroad are subject to airlines mandatorily flying on certain specified regional or uneconomic routes, as is being considered by the government, it will be a dampener.
But if the policy is more liberal, Vistara is clear where it wants to fly.
The strategy is also linked to the challenges SIA faces — from lack of enough seats to fly to India from Singapore, under the bilateral agreement, to challenges from West Asian airlines like Emirates and Etihad, wooing Indians to fly to the West and the US with them.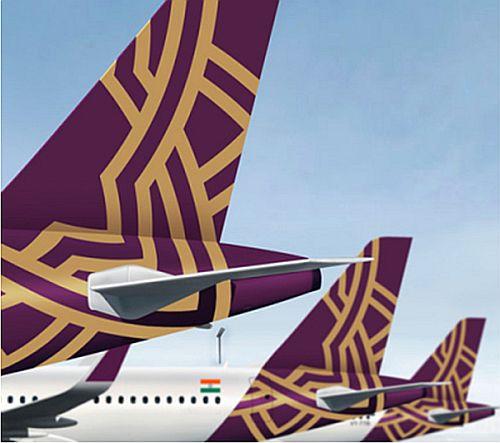 Image: Vistara is all set to take on competition from existing full service carriers like Jet Airways and Air India. Photograph: Courtesy, Vistara/Facebook
Sources say Vistara will surely want to fly directly from India to London, a market dominated by British Airways (BA) with a share of 42 per cent.
According to sources, BA, Air India and Jet Airways together control over 90 per cent of the India-London direct flight market, while Emirates provides indirect connectivity. For instance, between Delhi and London, you have the choice of five indirect Emirates flights.
But that is a crowded market and Vistara might instead want to take on Jet and Air India.
The debate within the Tata-SIA combine is on how to approach the US market — should it fly directly or leverage its SIA connections to tie up with partners, who would fly passengers from London to US cities?
It is, again, a market where the West Asian carriers are moving aggressively, especially after the Jet-Etihad alliance, to woo Indian customers.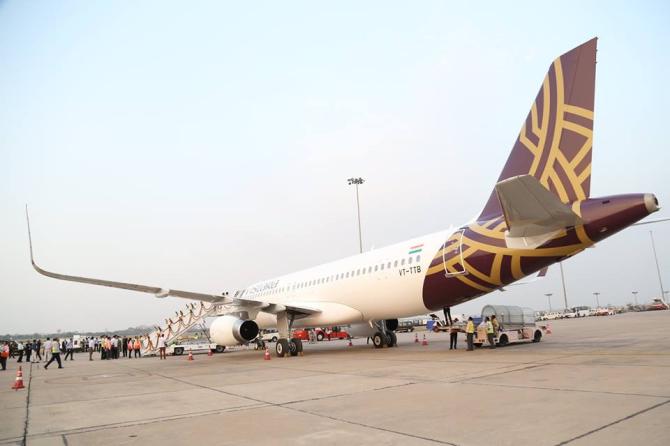 Image: Vistara will take to the skies on January 9, 2015. Photograph: Courtesy, Vistara/Facebook
There is another SIA challenge that Vistara might help address.
SIA wants to add the number of its flights to India but has not been able to procure a commensurate capacity increase under bilaterals.
Since the government is considering limiting fresh bilaterals under a new policy to only eight cities, SIA, which currently flies to eight cities along with Silk Air, will not be able to expand to newer cities with direct flights.
While the Singapore carriers are quickly exhausting their entitlement to fly to India, Indian airlines have not used even 40 per cent of their quota for flying to Singapore. Vistara, as an Indian airline, could utilise the unused bilateral entitlement for domestic Indian carriers to fly to Singapore.
In 2013, the government had rejected the Singapore Airlines' request to be allowed to fly to Madurai and Pune. But Vistara, a domestic carrier, will be able to fly directly from these cities.
The SIA group, including Silk Air, already controls 70 per cent of the capacity on the India-Singapore route. With Vistara coming in, it will mean two things.
First, it will expand the India-Singapore market.
Second, it will ensure Vistara and SIA together dominate the market by grabbing an even larger part of the pie. "We will compete with SIA for consumers but the market will only grow," says a source in Tata-SIA.
There also is a third market, Africa, waiting to be tapped, especially cities like Johannesburg, Cape Town and Addis Ababa. SIA has been weak in this market, with minimal presence.
It flies only to a few cities, while rival Emirates controls 9.7 per cent of the capacity from Africa, behind only South African Airways. It is another market that Etihad will look to tap after its alliance with Jet.
With business interests in India for Africa increasing, Vistara is expected to tap this market by offering direct connections. It could also tie up with SIA to