Joining Prime Minister Narendra Modi's initiative to rid the country of litter and rubbish, Reliance Group chairman Anil Ambani on Wednesday picked up the broom to clean an area outside Church Gate station and invited Mary Kom, Amitabh Bachchan and Sania Mirza to join the initiative.
Launching the Swachh Bharat campaign last week, Modi had named nine celebrities, including Ambani, cricketing icon Sachin Tendulkar and film stars Salman Khan and Priyanka Chopra to take the initiative forward.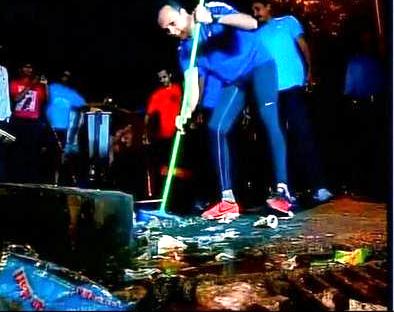 Anil Ambani takes the cue from Prime Minister Narendra Modi. Photograph: Kind Courtesy, Anil Ambani's Twitter page

He asked them to nominate nine more people to join the campaign with a hope that the chain will continue.
Ambani picked the broom to clean an area near Church Gate station here and invited nine prominent personalities, including Asian Games gold medallist boxer Mary Kom, legendary film star Amitabh Bachchan and tennis star Sania Mirza to take the Swachh Bharat campaign forward.
Modi tweeted, "Wonderful effort by Shri Anil Ambani, who cleaned the area around Churchgate Station in Mumbai along with his friends. #MyCleanIndia."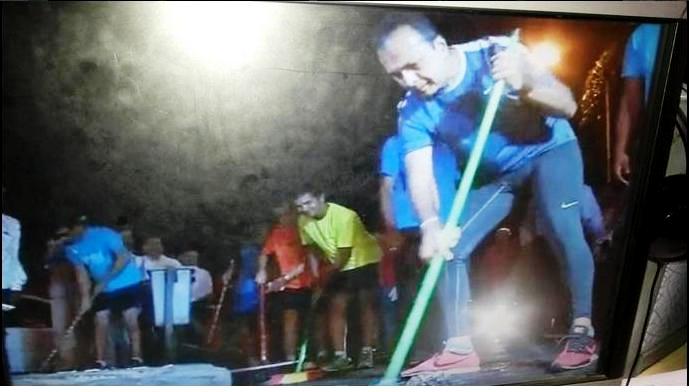 Anil Ambani cleans the area around Mumbai's Churchgate station. Photograph: Kind Courtesy, Anil Ambani's Twitter page

Sources said others named by Ambani include columnist Shobha De, leading journalist Shekhar Gupta, lyricist Prasoon Joshi, Bollywood superhero Hrithik Roshan, Telugu superstar Nagarjuna and Runners Clubs of India.
"I am honoured to be invited by our respected Prime Minister Shri Narendrabhai Modi to join the "Swachh Bharat Abhiyan.
"I dedicate myself to this movement and will invite nine other leading Indians to join me in the Clean India campaign," Ambani had said on October 2.
Ambani was among the nine eminent personalities picked up by Modi to propagate the Swachh Bharat campaign.
Others included cricketing icon Sachin Tendulkar, film stars Salman Khan, Priyanka Chopra and Kamal Hassan, Yoga guru Baba Ramdev and Congress leader Shashi Tharoor.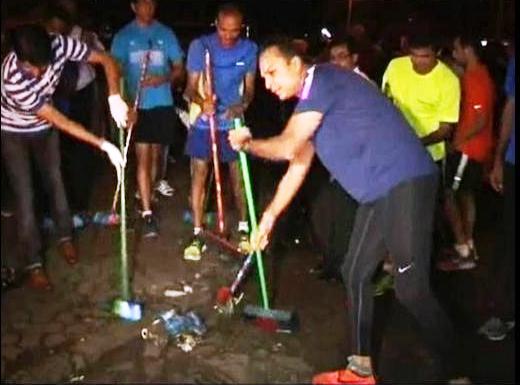 Anil Ambani was accompanied by his friends as he joined Narendra Modi's cleanliness drive. Photograph: Kind Courtesy, Anil Ambani's Twitter page

Modi used Gandhi Jayanti, the birth anniversary of Mahatma Gandhi, to start the cleanliness drive and ordered ministers to sweep areas clean.
"I have invited nine people and asked them to come to public places and work towards a Clean India. I ask them to invite nine more people too. . . I am sure these nine people will do the work and each will invite nine more people to form a chain and clean the country," Modi had said then.