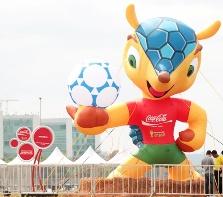 After the annual T20 cricket extravaganza, the Indian Premier League, Multi Screen Media is roping in sponsors for the Federation Internationale de Football Association World Cup 2014, which kicks off on June 13 in Brazil.

The event will be telecast on MSM's sports channels -- Sony Six and Sony Six HD in English — and Sony Aath, the network's only regional channel, in Bengali.

As of now, MSM, which has the rights to telecast the football tournament in the Indian sub-continent, has three sponsors -- 'presenting' sponsor Hero MotoCorp, 'powered-by' sponsor Xolo Mobile, and Microsoft.

The network is in talks with a host of companies like Havells, Sony India, Samsung, the UB group, Micromax and Diageo.

MSM President Rohit Gupta says: "The 'presenting' and 'powered-by' sponsorships have come at Rs 17-19 crore (Rs 170-190 million), while an associate sponsorship costs between Rs 13 crore (Rs 130 million) and Rs 15 crore (Rs 150 million).

We have also introduced spot packages at Rs 4 crore (Rs 40 million) and Rs 8 crore (Rs 80 million)." The network expects over Rs 100 crore (Rs 1 billion) from sponsorships for the FIFA World Cup telecast.

For this year's IPL, presenting sponsor Pepsi had paid Rs 80 crore (Rs 800 million), while associate sponsors had shelled out Rs 35-40 crore (Rs 350-400 million) for the 60-day tournament.

Sony is believed to have paid $90 million (Rs 540 crore) for the Indian telecast rights of two FIFA World Cups, as well as the Euro Cup in 2016.

Gupta said rates for 10-second advertisement slots were going to be in line with those for one-day international cricket matches, at Rs 2-275,000.

Football offers a lower inventory to advertisers than cricket and this might have pushed up rates for the FIFA World Cup.

The recently-concluded IPL commanded average advertisement rates of Rs 450,000-475,000 for 10 seconds. Cricket is sold at a premium in India because of its popularity.

Going by the sponsorship and spot rates for the FIFA World Cup, however, non-cricket sports appear to be catching up.

Marketing the FIFA World Cup has become easier with rising viewership of football in India over the past five years.

According to TAM data provided by a sports broadcaster, the FIFA World Cup 2010, telecast on the erstwhile ESPN-Star Sports network (now Star Sports), got a viewership of 1,531 TVT (television viewership in thousands), significantly higher than 1,018 TVT for the 2006 edition (on the same network).

The tournament's reach in India stood at 62.7 million for the 2010 edition.

The gross viewership for football in that year was 793 million, of which FIFA World Cup accounted for 428 GVM (gross viewership in millions).

"Almost 65 per cent of the country is below 35 years of age; they want a fast sport.

"Even in cricket, it is T20 that gets better advertising rates these days.

"Football is a good second sport option in India and advertisers have realised that.

"In terms of reach, too, the FIFA World Cup of 2010 was 62.7 million, compared with IPL's 130 million that year and 120 million for this year's T20 World Cup," Gupta says.

He expects the FIFA World Cup viewership to touch 100 million in India.

"Contrary to perception, most World Cup matches start at 9.30 pm, which is prime time.

Also, a lot of viewers are football enthusiasts, who are used to watching late-night matches of the English Premier League," explains Gupta.

The network has launched its ad campaign around the tournament featuring John Abraham, known to be a football fan and has even bought a team in the Indian Super League, promoted by IMG-Reliance and Star India.

Apart from the campaign, Abraham will also be seen in special programming for the event.

Media planners agree the prospects for the FIFA World Cup are bright. Lintas Initiative Media President Manas Mishra says: "The timing of the tournament is good.

"Both IPL and the election fever are over.

"Given that most of the matches are not very late, the stage is set for grabbing more eyeballs.

"The World Cup may, however, get some competition from the four major general entertainment channels that dominate the prime-time slot."

The tournament can be accessed on the digital platform at Sony Liv, which recently launched a sports entertainment product, Liv Sports.

The portal is the official mobile and internet broadcaster for the FIFA World Cup 2014.

"I believe the only hesitation that advertisers had was the distribution prowess of Sony Six as a sports channel.

"Compared with ESPN-Star Sports, Sony Six is fairly new; its reach could have been an issue.

"Things seemed to have worked out for MSM as advertisers eventually showed interest," says a media buyer from a national agency asking not to be named.
Image: Brazil have chosen an endangered armadillo as the mascot for the 2014 World Cup; Photograph: Ueslei Marcelino/Reuters