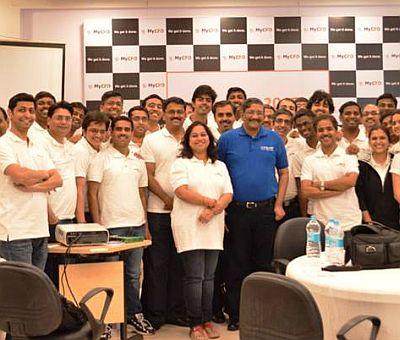 MyCFO has a head count of 130 spread across the National Capital Region, Mumbai, Bengaluru, Hyderabad, and Coimbatore.
What do start-ups and small and medium enterprises (SMEs) do when they need a senior financial manager but are unable to afford one?
Well, they can do worse than approach three-year-old MyCFO, a Chennai-based firm that provides outsourced CFO (chief financial officer) solutions for an affordable fee.
A full-time CFO would have to be paid Rs 60-70 lakh a year (and a financial controller about Rs 20 lakh a year), while the CFO services provided by MyCFO are at least 30 per cent cheaper, said S Venkat, director and joint head - client delivery, who founded the firm in 2012 along with Deepak Narayanan.
The two, with a combined work experience of 30 years in the financial domain, reckon that of the approximately 60,000 qualified chartered accountants (CAs) in India, fewer than 15 per cent are CFO material, and it would take 15 years to develop them into quality CFOs.
"Indian companies are overleveraged and we expect a shift from debt to equity for future growth.
While debt is passively managed, equity needs active management, including reporting financial matters to investors almost on a daily basis.
This will increase demand, while there is already a shortage of experienced, qualified CFOs," said Venkat.
MyCFO is targetting companies that have annual revenues of Rs 100 crore (Rs 1 billion) or more and do not have a CFO, fast-growing start-ups that are looking for CFO services, the increasing numbers of multinational companies that are open to a hired-CFO model, and family-managed businesses that may want to professionalise operations, said Narayanan, director and head - business development.
"Even if we look at a market size of around 6,000 companies, it is a good market," he said. Venkat estimates the overall Indian market size for MyCFO's services at about Rs 1,20,000 crore (Rs 1,200 billion), and the market for outsourced CFOs at 0.1 per cent of this (or Rs 120 crore) and growing at 15 per cent a year.
MyCFO tailors its services to suit clients' requirements. "We have sent 16 people to work in one company at a time, and a CFO for two days a week to another company," said Venkat.
Clients also hire a CFO for one-off assignments such as implementing an IPO, for which a full-time CFO is not required. It has IPO specialists on its staff.
Also in MyCFO's cross-hairs are companies which require a CFO but are unable to attract the right talent, those whose CFO may have resigned and who need an interim replacement, or where a CFO is in place but needs support in project-specific initiatives, or promoters averse to employing highly-paid full-time CFOs. "We are a good midway path for these companies," Venkat said.
The company has also been working with about 35 private equity funds. MyCFO has a head count of some 130 spread across the National Capital Region, Mumbai, Pune, Bengaluru, Hyderabad, Chennai and Coimbatore.
Most are CAs, and 20-25 are former CFOs. Its experts work out of clients' offices, especially in MSMEs where day-to-day interaction with the management may be needed.
The company collects a fixed fee for its services, which it has offered to some 200 companies, almost 75 per cent of whom have revenues below Rs 150 crore (Rs 1.50 billion).
The main challenge that MyCFO faces is a lack of quality manpower. It is, therefore, training several people who could be developed into CFOs over a period of time.
But it plans to scale up aggressively nonetheless, aiming for 1,000 clients and 1,000 employees in three years, and one to 1.5 per cent of the total market in five years, said Narayanan.
It also plans to foray into the English-speaking overseas market, entering unregulated markets on its own and regulated markets through tie-ups.