Viewers of the popular Kaun Banega Crorepati (KBC) game show on Sony Entertainment Television will not miss this one-liner by host Amitabh Bachchan, Ab show ka karenge shubh aarambh (let's start with the show).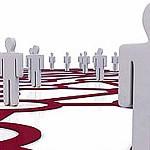 The moment the megastar says this, a strip appears at the bottom of the television screen, a visual of chocolate maker Cadbury's popular ad campaign, Shubh Aarambh.

A viewer is later also treated to an Axis Bank-branded cheque that Bachchan signs when handing over the winning amount after every padav or round.

Or, there is the Samsung Smart TV a viewer is drawn to when Bachchan says, "Computerji, lock kiya jaaye" (let's lock it, computer).

Brand integrations abound in KBC, something visible from the first season of the show back in 2000, when Britannia did its popular 50:50 biscuit branding around the lifeline of the same name.

But from then to now, the trend is no more restricted to a few key properties. Advertisers are now increasingly demanding 'value additions' such as these. Hindustan Unilever, the country's largest advertiser, has an ongoing integration for its Dove Hair Fall Therapy Shampoo on Zee Cafe, the English entertainment channel.

A Dove dangler, much like a calendar, showing the number of days taken for hair fall to come down, can be seen on the channel during the evening hours when viewership for English entertainment channels begins to peak.

Take another example, of Google Chrome. To improve recall for the Chrome, Google had slates - a screen carrying the logo of the web browser just before a show on STAR World went into a commercial break.

For prime time viewers of the channel, this was hard to miss.

Attraction

According
to media buyers, the demand for integrations is on the rise, thanks to the ability it has to stand out in a cluttered environment, if done the right way.
For TV channels, throwing in integrations serves as a hook to bait advertisers, especially when there is a slowdown. This is because most integrations come at no extra cost to the advertiser.
More often than not, it is a complementary offering by channels to help advertisers improve recall for their brands.
So, apart from on-air spots or commercials that tell the brand story, channels also make available screen time for innovations.
Says Sudhan Deo, business director at media agency Madison Media Infinity: "Definitely, it is a win-win situation for both the advertiser and the channel. The fact that it is not very expensive helps."
Deo was responsible for doing the cheque branding for Axis Bank on KBC this year and last year.
He says, "Axis Bank is getting at least six to seven exposures per episode thanks to this branding exercise. The fit is bang on."
The situation is no different with consumer durables maker Samsung. Says Ravinder Zutshi, deputy managing director, Samsung India, "I think the KBC branding gives us tremendous exposure because the show is watched by millions of viewers. Going into the festive season, we couldn't have asked for anything better."
Zutshi says the firm is open to more such integrations in the future. So far, Samsung has executed two such integrations on TV - one during season three of the Koffee with Karan talk show on STAR World in the first half of the current calendar year, where host Karan Johar is found holding the Galaxy Tab tablet when asking questions during the rapid-fire, and KBC now.
"I think this is one more window for an advertiser, in addition to regular advertising," Zutshi says.