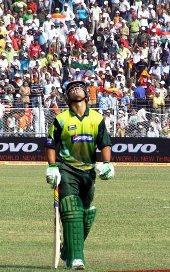 After noting the recent poor television viewership of cricket tournaments, including the Twenty20 format matches, sports broadcasters, media agencies and advertisers say One Day Internationals give the best return on investments.
Data from TAM, the audience measurement agency, show that in the recently concluded ICC Champions Trophy, the India matches had average ratings of 6.2, compared to 1.3 for the non-India matches. The average event ratings for India-Australia (6.6), India-England (4.8) or India-Sri Lanka ODIs (4.6) on Neo Sports were higher compared to the average event ratings of IPL-2 (4.17), ICC Champions Trophy (2.3) or Champions League (1.2 for games played between October 8-10).
TAM data helps advertisers and media planners decide which TV channels to put their money on. Annually, cricket tends to attract Rs 1,300-1,500 crore (Rs 13-15 billion) in ad revenue and is growing at high double digits, say sources in the media industry.
Media planners back the TAM data. "Any bilateral ODI involving India gets a very high rating and wider reach, compared to a tournament or a Twenty20 cricket (excluding IPL) for the advertisers. This is because there is no fear of India getting knocked out. Therefore, an India-Australia match is lucrative for advertisers, as it delivers guaranteed results," says Pavan Chandra, MD, west & south, ZenithOptimedia, a leading media agency.
This is good news for Neo Sports, that runs two channels, Neo Cricket and Neo Sports. It is host broadcaster for nearly 70 days of international cricket, beginning October 25. India is set to play seven ODIs with Australia. Then, India will play Sri Lanka in a three-Test and five-ODI tournament, followed by a tri-series involving Bangladesh, apart from India and Sri Lanka. Next, South Africa will visit India for another three-test and five-ODI series early next year.
Neo Sports aims to generate close to Rs 90 crore (Rs 900 million) in ad revenue from the seven ODIs, having signed on a host of advertisers, including DoCoMo, HP and Tata Motors, among others.
"The average event ratings for the matches on Neo Cricket this year stood at 5.49, which is 32 per cent more than the average event ratings for IPL-2. We are confident that the ODI format gives better returns to the advertisers," says Abhishek Verma, head of marketing and communications for Neo Sports.
Overall, Neo Sports aims to generate Rs 500-600 crore (Rs 5-6 billion) in advertising revenue in the next five months by hosting international cricket involving India and Australia, Sri Lanka, South Africa and Bangladesh.
Recent cricket tournaments like the ICC Champions Trophy or the ICC T20 World Cup delivered dismally low viewership ratings after the early exit of the Indian team.
Sources say ESPN, the host broadcaster for these tournaments, had to fill its advertising inventory with a number of in-house ads, as advertisers held back their committed ad-spots once India exited these tournaments.