After having worked with IBM and Oracle, Parasnis will now drive Adobe's cloud-based business along with shouldering a host of related responsibilities, reports Riti Jha/Rediff.com.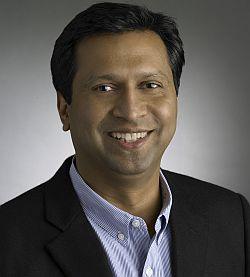 Adobe has roped in industry veteran Abhay Parasnis to head the firm's technology strategy, particularly its cloud portfolio.
Parasnis will serve as chief technology officer and senior vice president of platform technology and services at Adobe Systems, a computer software company.
The company made this announcement on Monday. Before Parasnis's appointment, Kevin Lynch, who joined Apple in 2013, was Adobe CTO.
The position had been vacant since he departed. Parasnis brings in nearly 20 years of experience in the software industry.
Most recently, he was president and chief operating officer of venture-funded enterprise mobility leader Kony. He previously held a variety of enterprise technology, platform and cloud roles at companies including Microsoft, i2, Oracle and IBM.
He earned his bachelor's degree in electronics and telecommunications from the College of Engineering Pune, and holds more than 20 patents spanning enterprise and consumer Internet technologies.
At Adobe he will drive the technology strategy, architecture and innovation roadmap for its cloud services, focusing on the integration of its three cloud services; providing a consistent customer experience via the cloud; and enabling the company's cloud-based go-to-market strategies.
"Abhay brings a powerful combination of technical credentials and operational experience to this new CTO role," Shantanu Narayen, Adobe's president and CEO, said in a press statement.
"Our cloud platforms are the foundation for our next phase of innovation and growth as a company and Abhay is the ideal candidate to lead this initiative," he added.
"Adobe has set the standard on how to successfully shift to a cloud-based business while delivering great innovation for customers," Parasnis said in a press statement.
"Adobe's cloud initiatives are dramatically re-shaping how content is created measured and consumed, which is unique in the software world and a great technical challenge. I'm excited to dive in and make great things happen," he added.
On Adobe's blog, he also said that he has interests in Adobe from both personal and professional perspectives.
"As a hobbyist photographer, I've had a personal connection to Adobe for some time. I'm passionate about landscape photography and can't live without Photoshop CC. Most recently, I've become a hardcore Lightroom CC user," he said.