In a move that could turn around the fortunes of two imported coal-based power plants in Gujarat, the Central Electricity Regulatory Commission (CERC) has allowed compensation of Rs 830 crore (Rs 8.3 billion) to Adani Power and Rs 329 crore (Rs 3.29 billion) to Tata Power from state-owned distribution companies in five states. The relief has been granted to compensate for higher costs of imported Indonesian coal.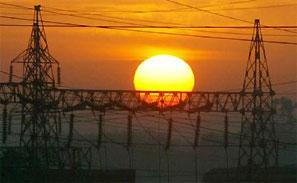 For the country's first ultra-mega power project in Mundra, the sector regulator has also allowed Tata Power a compensatory tariff of 52 paise a unit of power for the 4,000-Mw plant. For the current year, the tariff would be Rs 3.03, 59 paise higher than current charges.
In a separate 133-page order for the Adani power plant, also based in Mundra, a compensatory tariff based on a formula has been allowed for 1,000 Mw power sold to Gujarat Urja Vikas Nigam Ltd and two PPAs with Haryana utilities — Uttar Haryana Bijli Vidyut Nigam Ltd and Dakshin Haryana Bijli Vidyut Nigam Ltd — for 1,424 Mw.

FOR ADANI POWER
Rs 1.96 a unit
Original tariff in Haryana
43 paise a unit
Additional tariff
Rs 1.38 a unit
Original tariff in Gujarat
71 paise a unit
Additional tariff
FOR TATA POWER
Rs 2.26 a unit
Original tariff
52 paise a unit
Additional tariff
59 paise a unit
Additional tariff for the current year
Assuming a share of 19 paise in income from merchant sales, Haryana would have to pay 43 paise more for one unit of power and Gujarat 71 paise. The quoted tariff at the time of bidding was Rs 1.96 for Haryana and Rs 1.38 for Gujarat.

CERC has odered a percentage cut in the return on equity for Gujarat and 0.25 per cent in case of Haryana due to the tariff structure quoted by Adani at the time of bidding. This would go towards reduction of compensatory tariff.
Adani has been directed to submit claims with actual montly costs for a final settlement. Besides, Gujarat will have to pay Rs 420.24 crore (Rs 4.2 billion) and Haryana Rs 409.51 crore (Rs 4.10 billion) as compensation from the commissioning date till March 31, 2013. While seeking a higher tariff, Adani had pleaded it was meeting Gujarat's complete requirement through imported coal. In case of Haryana, it was 58 per cent.

Coastal Gujarat Power Ltd, the fully owned subsidiary of Tata Power, will recover Rs 329.45 crore in compensation for last year from five procurers in proportion to their contracted capacity. The amount would be payable in 36 equal monthly instalments with a carrying cost for delays. The compensatory tariff mechanism for both the power plants will be reviewed after three years from February 21, 2014.

The impact of compensatory tariff has been lowered with CERC granting the procurers a share in profit from Tata Power's and Adani Power's coal mining operations in Indonesia. This would be in proportion to the coal used for contracted power. Besides, they would get 60 per cent share in realisation from third-party sales in case of Tata plant and 50 per cent in the case of Adani.

Though the two orders will set a precedent for other power generators that have signed PPAs on fixed tariffs, former power secretary P Umashankar said the regulator would take a view on a case-to-case basis. "The orders will definitely give guidance but regulators will go into the merits of each case," he said.

Tata Power had bagged the project in December 2006 on a levelised tariff of Rs 2.26 a unit. According to the order delivered on Friday, the compensatory tariff would be maintained as a separate account and be reflected in the monthly bill under a separate head, clearly segregating the installment of arrears and the compensatory tariff for the concerned month.

"The CERC decision was awaited to make Mundra viable, which had got impacted due to no fault of itself, but due to a change of law in Indonesia as also in other coal exporting countries and an unprecedented rise, which could not have been perceived," Tata Power said in a statement issued on Saturday. The ministry of energy and mineral resources of Indonesia had on September 23, 2010, issued guidelines asking mineral producers to sell minerals and coal based on a regulated benchmark price, whether for domestic or export sales. This, Tata Power contended, increased its fuel cost.

The power purchase agreements signed with Gujarat, Maharashtra, Punjab, Haryana and Rajasthan did not allow increased fuel cost to be passed through tariffs. "The order provides partial relief to the Mundra UMPP (ultra-mega power project), which has been contributing to the nation by way of about 2-3 per cent of the gross generation," said the company statement.

Even after the effective tariff of Rs 3.03, the cost of power from the Mundra UMPP would be among the cheapest 50 percentile for the distribution companies in the five states. Last April, while allowing a hike in tariffs for the two projects, CERC had set up a panel headed by Deepak Parekh to work out compensatory tariffs to mitigate the adverse impact of higher prices of imported coal.