In a landmark order, the Central Electricity Regulatory Commission (CERC), the country's power sector regulator, has allowed a "compensatory tariff" for Adani Power's imported-coal-based power project in Mundra, Gujarat.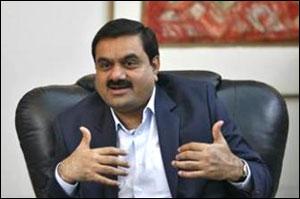 The Gautam Adani-led company had sought a revision in tariff, citing increased capital cost, since a recent change in regulation governing coal imports from Indonesia had made the fuel dearer.
The regulator also ordered setting up of a committee to work out the exact quantum of "compensation" over the current tariff for the 4,620-Mw project.
The CERC order has come as a boost for investor confidence, as it sets at rest the industry's apprehension the government might not allow post-bid changes in contract conditions. It has also ignited hopes for Tata Power and Reliance Power, the two firms seeking increase in tariff on similar grounds for their ultra mega power projects - in Mundra, Sasan and Krishnapatnam.
Following the order, Adani Power's shares surged 8.79 per cent over their previous close, to Rs 47.6, on the Bombay Stock Exchange. The stocks of Tata Power and Reliance Power also rose - by 0.73 per cent to Rs 96.05 and by 0.69 per cent to Rs 66.10, respectively.
However, power prices for consumers in Gujarat and Haryana could rise. Haryana's state power regulator has already allowed up to 15 per cent increase in power tariff for the current financial year. Haryana Power Distribution Utilities chairman Devinder Singh told Business Standard his state had not decided on the future course of action; the order was still being studied.
CERC is a statutory body set up under a law framed by Parliament and its verdict "could either be accepted or challenged" in Aptel. Singh said the power purchase agreement (PPA) Haryana signed with Adani was the first such deal between the state and a private company.
Today's order would set a legal precedent for other companies facing issues of fuel shortage and increased costs. Tata Power chairman Anil Sardana called the move "progressive". He told Business Standard the order "provides an opening for mitigating the problem of fuel pricing faced in the sector".
Besides, the order establishes a compensatory tariff regime that can de-risk assets. "If the recommendation goes through, power will become costlier for some consumers. But this will make sure power is at least generated and sold. No developer would like to incur losses every day and still generate power," said A K Basu, who had earlier been power secretary and CERC chairman.
The petitioner needs to be compensated over and above the tariff discovered through competitive bidding, said the order. "The compensation package could be variable in nature, commensurate with the hardship the petitioner is suffering on account of unforeseen events leading to increased coal price which has affected its performance under PPA," CERC said in its 94-page order.
CERC member S Jayaraman, however, dissented with the order of a three-member panel headed by Chairman Pramod Deo. "The decision will set a precedent. The exercise of regulatory power in such cases will have a cascading effect. In case there is again some development of a similar nature, will the commission interfere at the instance of the project developer? Will such an exercise of power not jeopardise consumers' interest?" Jayaraman wrote in his separate order.
Adani Power had signed two PPAs of 1,000 megawatts (Mw) each with the Gujarat government, at Rs 2.35 per unit and Rs 2.89 per unit, for its project in 2007.
The bid was based on a commitment by the Gujarat government for allocation of Morga-II coal block. The company had also entered into a PPA with the Haryana government for sale of power at Rs 2.94 per unit in 2008. This bid was premised on use of 70 per cent indigenous coal and 30 per cent imported coal.
However, Adani Power's memoranda of understanding with Japan's Kowa Company Ltd and Germany's Coal Orbis Trading GMBH were terminated in 2008. This led the company to sign agreement with Adani Enterprises for supply of coal from its Indonesian subsidiary.
The company was sourcing coal from Indonesia at $92 a tonne (this price has come down to less than $72 a tonne now), compared to $36 per tonne before the notification of the Indonesian regulation. The company says it has incurred annual losses of Rs 790 crore (Rs 7.9 billion) in supplying power to Gujarat and Rs 580 crore in supplying to Haryana. Gautam Adani said the CERC order was welcome. "It would pave the way to bring back investor confidence in the power sector," he said.
Image: Gautam Adani. Photograph: Amit Dave/Reuters