Anil Dhirubhai Ambani Group's market valuation soared 14 per cent in June quarter, the most among India's top five business houses, making it the third most valued group in the country.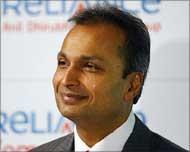 Anil Ambani-led Reliance ADAG's market capitalisation was at Rs 1,42,380 crore (Rs 1,423.80 billion) for the three-month period ended June 30, 2010, higher by about 14 per cent compared to March quarter.
The seven listed companies of the Anil Ambani Group, led by Reliance Power and RCom, made their investors wealthier by Rs 16,969 crore (Rs 169.69 billion).
Big brother Mukesh Ambani-controlled Reliance Industries Ltd, however, maintains its numero uno position with a total M-cap of Rs 3,57,902 crore (Rs 3,579.02 billion) at the end of June quarter.
Reliance pack shares have been rising since the warring siblings called a truce on May 23.
"After the Ambani brothers agreed to cancel all existing non-compete pacts, shares of their firms have surged as both the groups can expand their business in different verticals and capitulate on their existing synergies, which in turn will benefit shareholders," said a leading analyst.
The two Mukesh Ambani Group firms -- RIL and Reliance Industrial Infrastructure -- added around Rs 5,102 crore (Rs 51.02 billion) and Rs 256 crore (Rs 2.56 billion) to their M-caps, respectively.
The analysis of market capitalisation (M-cap) of the top five business houses shows that the Tata Group ranks second and is valued around Rs 326,000 crore at the end of June quarter. It fell three per cent as compared to about Rs 337,000 crore in the March quarter.
The Tata Group companies listed on the stock exchanges include Tata Motors, Tata Steel and Tata Power.
Interestingly, except the Ambani Groups, all other business houses saw erosion in their M-cap, the analysis shows.
NRI billionaire Anil Agarwal-led Sterlite (Vedanta) Group ranks fourth. The group's M-cap stands at Rs 131,522 crore (Rs 1,315.22 billion), down 20 per cent as against Rs 164,490 crore (Rs 1,644.9 billion) of March quarter.
The June quarter was a turbulent period for metal sector and all the four listed firms of Sterlite group saw erosion in valuation.
Sterlite Industries lost 20 per cent, Hindustan Zinc 19 per cent and Sesa Goa 25 per cent.
Bharti Group ranks fifth though its valuation eroded by 16 per cent to Rs 99,970 crore (Rs 999.70 billion).
Significantly, during the June 2010 quarter, stock market benchmark Sensex rose just about one per cent.