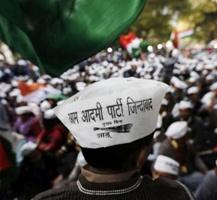 Aam Aadmi Party on Thursday downplayed Air Deccan founder Captain Gopinath's comments against its government's decision to reject FDI in retail in Delhi, saying members can have different opinions.

Senior party leader and member of the national executive committee Yogendra Yadav said that the party had over 1.5 million members and it was only the opinion of the party officer bearers and spokespersons that was relevant.

"We came to know that many people (popular personalities from different fields including Captain Gopinath) have become the members of the Aam
Aadmi Party.
"It would be an extraordinary expectation to assume that all those 1.5 million members of the Aam Aadmi Party will have consensus on any major issue.
"Of these 1.5 million members, some are office bearers, some are official spokespersons. "If they say something then that is the party's line," Yadav said.
Gopinath on Wednesday had criticised the Delhi's government decision of not allowing FDI in retail.
He said that the party was in danger of being branded like other political parties of resorting to populist measures and opposing for the sake of opposing.
Yadav added that AAP welcomed the expectations and public focus because this what will keep the government on its toes and that the party is committed to seeking public opinion on any major issue.