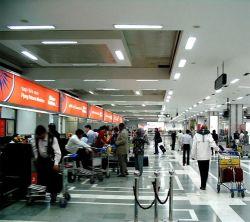 The state-owned airport operator Airports Authority of India is planning to develop 50 new low-cost airports across the country to cope with the growing air traffic.

Announcing this at a conference on Communication, Navigation and Surveillance systems, AAI Member (Operations) G K Chaukiyal said that the low-cost airports would be built over 10 years in an effort to reduce the cost of operation.

"The cost of operation of the airports and airlines has increased exceptionally and thus their economic viability is a major concern.

"Only 10 airports in the country are profitable.

"The low-cost airlines in smaller cities will also strengthen connectivity," Chaukiyal said.

He said that the airports would come up on a public- private partnership model and the Centre had earmarked Rs 100 crore (Rs 1 billion) for each airport.

"We also need support from the state governments to make available the required land," he said.

The AAI will also take up modernisation of the CNS systems at all major airports to increase air safety.

It has undertaken programmes to install state-of-the-art communication, navigation and surveillance systems in all major airports to ensure safety in air space, while lauding automation in CNS system at the NSC Bose International Airports in Kolkata.

Meanwhile, the CNS Officers' Guild, which organised the seminar, have urged the authority to set up a committee to study the human factors of "Air Traffic Safety Electronics Personnel and make recommendations to ensure total safety for air-passengers.

"The levels of safety should be increased following growing air traffic movements and number of airports, besides growth in airspace, for the safety of airlines as well as air-passengers," the Guild President Subit Kobiraj said.

"In AAI we have rich experience
and expertise in our technical domain and we assure you to contribute our best for further growth, safety and betterment of the aviation in India," he said.
"In the modern age of air traffic services, we have automation in both the Air Traffic Management and CNS which is known together as CNS-ATM.
"Analysis of human factors can improve overall performance, reduce technical risks in system acquisitions, lower life-cycle costs of systems and equipment, improve human interfaces with the system and contribute to economic decisions on controller training, besides providing other benefits," Kobiraj said.
Speaking on the occasion, AAI Regional Executive Director (East) S Bhaduri said that phenomenal growth in air traffic over the last two decades and similar projected figures for coming years coupled with much faster moving aircraft have made civil aviation system designers the world over to think over its massive upgradation.
Today's Air Traffic Services is all about seamless surveillance coverage over vast airspace with comparable VHF coverage, fewer FIRs, and redundancy, Bhaduri said.
"Upper Airspace Harmonisation of our FIRs is one of the latest 'Aviation System Block Upgrades' to happen in Indian Airspace, which has been applauded at International forums of repute," he said.
The UAH is already in place in Chennai whereas in Kolkata it is being implemented. It would come up next in Delhi and Mumbai.
"From ACCs and FIRs being single radar systems earlier, we are transiting to seamless surveillance coverage over redesigned FIRs with comparable VHF coverage and multiple surveillance fused sensors," he said.
Director of the NSC Bose International Airport here Dr B P Sharma said that the state-of-the-art new terminal building had already bagged a number of international awards.
The NSC Bose International Airport has secured rating of 4.42 and Chennai Airport has secured rating of 4.3 in the recent Airports Service Quality survey, Sharma said.