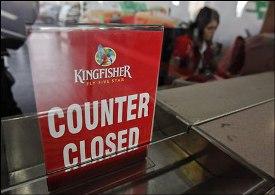 The Airports Authority of India (AAI) has filed two lawsuits against the Vijay Mallya-promoted Kingfisher Airlines Ltd to recover Rs 300 crore in unpaid airport usage fees.

"We have filed a criminal lawsuit against Kingfisher, as cheques of Rs 117 crore given by the company has been returned by banks due to insufficient funds. AAI has also filed a civil lawsuit in Mumbai to recover the remaining dues of about Rs 183 crore from the airline," said V P Agrawal, chairman of AAI.
The lawsuits filed for recovering dues of Rs 300 crore from Kingfisher is exclusive of payment guarantees given by banks.
Kingfisher, which has dues of Rs 10,000 crore to lenders, suppliers, aircraft leasing companies, employees and airport operators, has been facing several lawsuits from its creditors.
Recently, a consortium of 14 banks led by State Bank of India, which have a combined exposure of Rs 7,000 crore to the grounded airline, moved the Debt Recovery Tribunal and Securitisation and Reconstruction of Financial Assets and Enforcement of Security Interest (Sarfaesi) Act to recover dues.

The consortium moved DRT to encash collaterals, as Sarfaesi does not cover all securities.
The Sarfaesi Act, for one, does not cover the two helicopters offered as collateral, a personal guarantee extended by Mallya. Banks also plan to sell Kingfisher House in Vila Parle, Mumbai, and a villa in Goa owned by Mallya.

In April this year, Kingfisher had submitted a fresh revival plan to the Directorate General of Civil Aviation. But the permission to resume operations was not forthcoming as the airline failed to get no-objection certificates from various stakeholders, including airport operators, jet fuel suppliers, spare parts vendors and bankers.

At its peak, Kingfisher used to operate 374 flights within India and to eight international destinations. Overall, it flew 66 aircrafts to 68 locations and had a market share of around 20 per cent.
The airline, however, has been incurring losses since its inception in 2005 due to aggressive expansion plans and acquisition of a leading low-cost carrier in India. Its plan to fly A380, too, backfired due to tepid growth of air traffic in India.
The airline suspended operations in October 2012 following a strike by its employees. The government later cancelled its licence and said it would not let the airline resume operations till it submitted a viable revival plan. Kingfisher has two years till December 2014 to renew its licence.