80% of beneficiaries in 300 districts to be linked with direct benefits transfer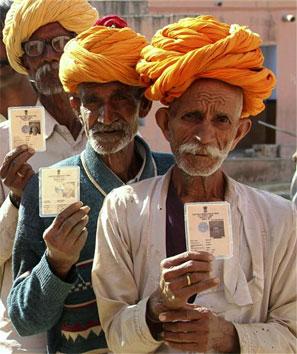 After reposing faith in the Aadhaar project at its Cabinet meeting last week, the Narendra Modi government wants direct benefits transfer (DBT) for 80 per cent of beneficiaries in five key schemes "as soon as possible".

The schemes to be covered include that for cooking gas subsidy, where DBT was stalled by the previous government. The other schemes are on transfer of pensions, scholarships, the National Rural Employment Guarantee Scheme and the Public Distribution System (PDS).

According to the Planning Commission's assessment, Aadhaar's penetration among beneficiaries of these five schemes varies from 25 per cent to 60 per cent at present.

"In some states the reach is very little. We will now scale up the penetration to bring an Aadhaar-enabled mechanism for transfer of funds to 80 per cent of the beneficiaries of five programmes," a senior official said.

To begin with, the plan to take Aadhaar to 80 per cent beneficiaries would be for 300 districts (of India's 670 districts); it would be expanded after the first stage got over, the official said.

The Commission, the nodal agency for Aadhaar, will meet representatives from on Tuesday and those from Union Territories on September 30. "The meeting is for reviewing the state-wise progress of Aadhaar, evaluating the bottlenecks and finding solutions," the official added.

The Prime Minister's Office, it is learnt, is directly monitoring the progress of Aadhaar coverage for these five schemes. It had earlier sought from the Planning Commission a report on the feasibility of implementing DBT for these schemes.

Earlier this month, Prime Minister Narendra Modi had chaired a review meeting for both Aadhaar and the home ministry's National Population Register (NPR) project. He had emphasised the need for using biometric technology for checking leakages in welfare schemes. Officials said it was decided that bank accounts would be linked to both Aadhaar and NPR for cash transfers — the finance ministry was told to work out a mechanism for linking NPR to bank accounts.

Under the previous government's term, efforts were made to transfer cash directly to the
bank accounts of beneficiaries for PDS and cooking gas, among other things. However, the plan had to be stalled due to Aadhaar's sparse linkage with bank accounts. Also, the Supreme Court had ruled that the Aadhaar numbers could not be made compulsory for people to avail of benefits of government schemes and subsidies. Before DBT for cooking gas was put in abeyance, around Rs 5,000 crore (Rs 50 billion) had been transacted through the channel.
However, after the launch of the ambitious Pradhan Mantri Jan Dhan Yojana, the government's plans of Aadhaar-linked programmes have again got a boost. The finance ministry had recently said 40 million bank accounts had so far been opened under the Jan Dhan scheme and banks had mobilised Rs 3,700 crore (Rs 37 billion). The target for this scheme is to provide basic bank accounts to at least 75 million households by January 25.
The Cabinet had last week re-approved the Unique Identification Authority of India's (UIDAI's) mandate by extending its coverage to four more states, to cover one billion people. Aadhaar had undergone a period of uncertainty after the Bharatiya Janata Party-led government came to power in May this year. This was because BJP leaders had opposed the project during their campaign for the Lok Sabha polls.
To date, about 674 million Aadhaar numbers have been generated. UIDAI's total expenditure from inception to the end of August was estimated to be Rs 4,906 crore.
According to some estimates, Aadhaar-enabled transfer of benefits could bring down the government's fuel subsidy bill by 20 per cent. The Centres' total expenditure under this head was pegged at Rs 63,427 crore (Rs 634.27 billion) for 2014-15, against the revised estimate of Rs 85,480 crore (Rs 854.8 billion) for the previous year.
Wider reach
80% Proportion of beneficiaries of five key schemes that PMO wants to cover with the Aadhaar-enabled direct benefits transfers
300 Number of districts to be covered in the first phase of the plan
Key schemes Those to be covered for DBT are subsidies in cooking gas, public distribution system, the National Rural Employment Guarantee Scheme, scholarships and pensions
25-60% Aadhaar's penetration among the beneficiaries of these five schemes at present
Taking stock Planning Commission has called a meeting of states and Union territories this month to review the progress