The stories of exclusions illustrate so tragically, the need of the hour is to bolster biometrics and 'smart' technologies with something more old-fashioned -- the good old fashioned, compassionate human touch, says Geetanjali Krishna, in a two-part series examining the nagging bugs the UIDAI hasn't yet fixed.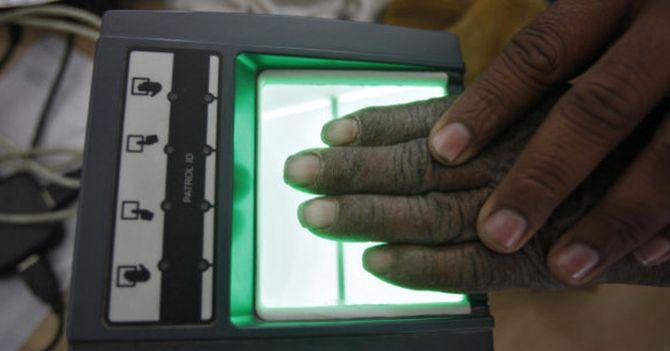 The child suckles futilely at Koyli Devi's breast as she struggles to describe her 11-year-old sister's last words before she died of starvation in September last year in Jharkhand.
"Santoshi asked for bhaat, rice…" says she. "My daughter was not sick, she simply died of hunger."
The family had applied to have their Aadhaar number seeded with the household ration card, but had been unable to draw rations since July last year. "When she died, still asking for rice, we had not lit a fire in the hearth for eight days," says she.
The tragedy of Aadhaar-linked exclusions in Jharkhand has not ended with Santoshi's death.
A month later, Ruplal Marandi died in Deoghar district after being denied grains as his family members' Aadhaar-based biometric authentication failed.
In December, 64-year-old widow Premani Kunwar died in Garhwa district after the state's Aadhaar-based payment system accidentally redirected her pension money to a different account.
These tragedies exemplify the exclusions that have resulted from the government's insistence on seeding social security benefits with Aadhaar, based on biometric identification.
There is, however, an even more tragic set of exclusions, of people who, for varying reasons, are incapable of furnishing their biometrics -- and so, under the present set of rules, will never be able to get an Aadhaar card, and, consequently, never vote, claim social security, or get a phone connection.
The mechanism of exclusion
India's 2.2 per cent disabled population is unfortunately high on the list of exclusions.
Here are the findings of Chennai-based NGO Vidya Sagar, which held a month-long Aadhaar enrolment camp for children with mental and intellectual disabilities between July and August last year.
"Biometric scanning was impossible for people with involuntary movements and a whole spectrum of people who simply can't cope or cooperate with any of these procedures," says Smitha Sadasivan, who's with the NGO as well as part of Disability Rights Alliance India.
"Many of our children found the iris scan very frightening as they could see the image of their own eyes in the camera. For children who lacked eye coordination, iris scanning wasn't possible at all."
Fingerprinting, especially for people with locomotor disability, proved difficult, and traumatic as well.
"Even more vexing," says Satendra Singh, Delhi-based disability rights activist, "is the issue of taking biometric measurements of people with psychiatric disorders, cerebral palsy, and leprosy."
Sadasivan recalls how a young girl became so agitated by the intrusiveness of biometric measurement that she suffered a seizure.
Nipun Malhotra, a Delhi-based disability rights activist with a severe locomotor disability, recounts his own experience.
"Arthrogryposis has made it painful for me to open out my fingers," says he.
"The first time I went to the Aadhaar enrolment centre, the agent pried my fingers open, causing me pain and trauma."
The second time round, Malhotra managed to get his Aadhaar card made on the basis of an iris scan and photograph of his hands as proof that in his case, fingerprinting was impossible.
However, given that most activities that require Aadhaar seeding have only fingerprint scans, not iris scans, Malhotra's card is probably not going to help him access his entitlements.
The elderly (103.9 million, according to a 2016 government report) are an even larger section of the population that runs the risk of being excluded, as their biometrics are often hard to calibrate.
"Also, those who are bedridden or wheelchair-users are finding it impossible to go to the Aadhaar enrolment centres," says Singh.
Among this demographic, many who possess Aadhaar cards say that since their fingerprints do not match anymore, the cards have become virtually useless for them.
"Indeed, most banks and mobile providers have only fingerprint scanners, not iris scanners," says Sadasivan. "This excessive reliance on fingerprint matching is not only insensitive, but is denying several categories of citizens, the social security they desperately need!"
The litany of Aadhaar-caused exclusions continues with the country's homeless (1.77 million, according to the 2011 Census, though activists estimate the numbers to be three times higher), who, as even the Supreme Court has noted with concern, have no address proof.
"Initially, the Unique Identification Authority of India allowed people without valid proof of address to be introduced by citizens with valid Aadhaar cards," says activist Harsh Mander of the Centre of Equity Studies, which works with the urban homeless.
In 2013, the 'Introducer' scheme enabled them to get about 5,000 Aadhaar enrolments for homeless citizens, as anyone with a valid Aadhaar card could vouch for an individual without address proof.
"Over the years, this scheme has tightened considerably," says he, adding that for the last two years, his colleagues and he have to approach gazetted government officers to act as Introducers.
"After the change of rules," says Mander, "we have been able to get Aadhaar cards for barely 200 to 250 individuals."
"Such exclusions are unconscionable," says Subhashis Banerjee of IIT Delhi, who has co-authored the paper Privacy and Security of Aadhaar: A Computer Science Perspective.
He advocates that the government delinks the Aadhaar card's biometric identification with welfare schemes until it sorts these issues out.
"Instead, there should be a scientific study of exclusions, and an analysis of where and why biometrics have failed."
Biometric passwords, he says, are conceptually flawed. Since they don't require the individual's volition, they can easily be duplicated or faked.
Perhaps instead, as these stories of exclusions illustrate so tragically, the need of the hour is to bolster biometrics and 'smart' technologies with something more old-fashioned -- the good old fashioned, compassionate human touch.
Making Aadhaar more inclusive
Ensure that Aadhaar enrolment centres are accessible to the elderly and wheelchair users

Train the enrolment centre staff to be more sensitive to differently-abled people

Have a set of rules and procedures (available to citizens and enrolment centre staff) for enrolment of people for whom biometric identification is not an option

Enable bedside enrolment for people who are unable to come to the enrolment centre

Make it simpler for the homeless to get Aadhaar cards without furnishing address proof

Have a robust grievance redress system for citizens unable to claim their social security benefits

Photograph: Mansi Thapliyal/Reuters.