When Anand Sharma took over as commerce minister one year back, exports growth rates were negative, the negotiations at the World Trade Organization were at a standstill, bilateral trade treaties were at various stages of negotiation, the government finances were not in a great shape to allow more sops for exporters, the global economic uncertainties were continuing and corruption was rampant in the offices of the Director General of Foreign Trade.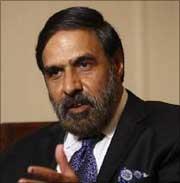 Considering the challenges, he was seen as a lightweight. One year later, his report card shows few breakthrough achievements but hardly any mess-ups. He has played safe.
Sharma put in place a new five-year Foreign Trade Policy, but wisely made it an interim one till 2011, allowing himself the option of recasting the policy once the global uncertainties diminished.
He continued with the Duty Entitlement Passbook scheme, increased the entitlement and widened the coverage under the Focus Market scheme, introduced zero-duty Export Promotion Capital Goods scheme, managed to get 1 per cent Status holder Incentives Scrip scheme from the finance ministry and made some useful procedural changes.
He refused to disturb the policy on special economic zones. He left FTP unchanged making only some incremental changes for a limited period.
At WTO, Sharma kept a relatively low profile reiterating his well-known position and never coming out with any unpleasant comment or any worthwhile idea.
Perhaps, he feels the time is not ripe given the all-round lack of interest of the leaders of developed countries who were more preoccupied with coming out of the recession. He may well feel that WTO is moribund for reasons that he can do little about.
Sharma went ahead with free trade agreements with the Association of South East Asian Nations and South Korea.
With the European Union, Australia, Russia, New Zealand etc., he has let the process of trying to get into some kind of economic cooperation agreement in future proceed at a convenient pace, neither pushing hard, nor placing any hurdles.
Sharma can proudly claim that the export growth is now in the positive territory, although on a low base. To his credit, it must be said that he made efforts to interact with a large number of importers and exporters and set realistic targets for exports.
Exporters see him as someone willing to listen and understand their problems but few see him as someone willing to take on the heavyweights within his ministry.
The licensing offices of DGFT continue their merry ways fully confident that Sharma will be the last person to say or do anything unpleasant.
Exporters are quite sure that they can do business with his ministry as usual. Few entrenched interests feel threatened by Sharma.
Compared to his predecessor, Sharma has been less noisy or demonstrative. Like a good schoolboy who combs his hair, turns up in proper uniform before time, gets along with his peers, wins the approval of elders but never tops in his class or gets into extra-curricular activities, he has let everyone have his peace.
He has not tried to grab space in the news channels or newspapers. His overseas jaunts have been relatively few.
Overall, Sharma has been correct and average. Perhaps, we will see his brilliance when the global economic uncertainties go away and exports revive fully.