GIBSS, with its partnership with international organisations, has been effective in building a strong team to be able to handle new technologies, such as geothermal cooling systems.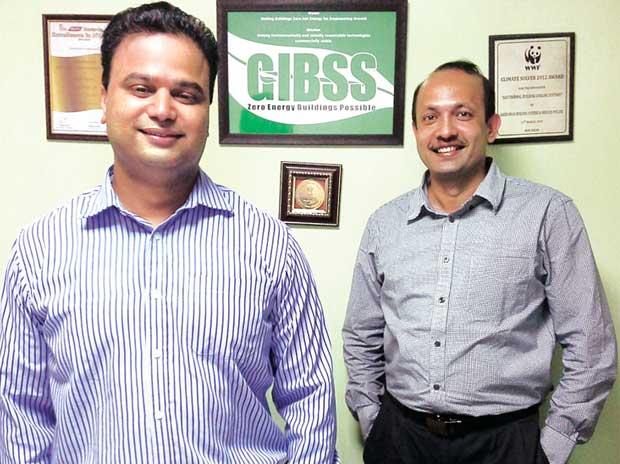 Arun Shenoy (left) and Mandar Kaprekar, foudners of GIBSS. Photograph: Courtesy, Business Standard
After a masters in mechanical engineering from Oklahoma University, with geothermal systems as an area of specialisation, Arun Shenoy worked in the US for geothermal heat pump maker Climatemaster and then commercial air-conditioning manufacturer TRANE.
It was during this phase that Shenoy realised that geothermal technology can make a huge economic and environmental impact in a resource-scarce country like India.
After coming back from the US to join TRANE in India in early 2008, Shenoy met Mandar Kaprekar, who had worked in the building systems industry for 15 years.
Kaprekar had also migrated from West Asia to float an entrepreneurial venture in the building systems space.
The beginning
"It's a fortunate coincidence that both of us, with similar vision and professional and technical backgrounds, happened to meet at TRANE India and decided to take the GIBSS (Green India Building Systems and Services) vision live in February 2009," recalls the co-founder of this Mumbai-based start-up.
With guidance from the Wadhwani Centre for Entrepreneurial Development at the IndianSchool of Business, and having done a field study on the market opportunity and customer pain-points in building systems, GIBSS started from the living room of an apartment in April 2010.
"Bootstrapping was the name of the game from 2009 through 2012. We invested our savings in the company towards research and product development. During this phase, we conducted empirical studies on ground thermal and hydro-geological data of 22 cities across India, which formed the baseline for geothermal strategies that could be applied to cooling regions like India," says Shenoy.
With offices in Mumbai, Hyderabad, Delhi, Bengaluru and Singapore, GIBSS focuses on offering turnkey geothermal air-conditioning design and installation.
It works with building owners to reduce their operating costs by up to 60 per cent through innovations like geothermal air-conditioning systems, hot water cogeneration and LED lighting systems.
It also works with owners to make the energy-saving projects viable through project financing, performance guarantees, onsite inventories of critical spares and buyback of traditional systems.
In most cases, the payback on energy saving projects offered by GIBSS are between one and three years.
"Till date, we have generated annual savings of eight million electrical units and reduced 150 million litres of water consumption," says Kaprekar.
"Currently, there are 16 geothermal projects under execution in different parts of India across building verticals like data centres, large office buildings, manufacturing facilities, hospitals, hotels, pharma and automotive plants. We are now working with over 400 buildings across industrial, institutional and commercial settings, to help them achieve a net zero-energy building path," he adds.
The geothermal market in India is estimated to be Rs 65,000 crore or Rs 650 billion in the commercial and industrial domain. Globally, there are about six million geothermal installations.
The installation base in India is expected to grow at an impressive 400 per cent, year-on-year, for the next eight to 10 years.
Some of the factors that would trigger this growth will be an exceptional commercial viability of the technology with payback under three years, active participation from the Union ministry of renewable and new energy through the launch of a National Geothermal Policy during a Reinvest Summit in February 2015, the smart city project planned in India actively exploring geothermal technology, and a 300 per cent jump in the number of IGSHPA (International Ground Source Heat Pump Association, apex body for geothermal installations worldwide) accredited professionals and geothermal experts in India.
"Geothermal in India has come a long way in three-four years. It was apparent that strategies that worked in Western countries like the US couldn't be simply copied and pasted here in India. With the relentless field efforts and empirical studies by our IGSHPA-accredited team, we have built a geothermal map for India and have come up with some of the strategies specific to the tropical geography of India," says Shenoy.
The government is looking to implement geothermal systems in projects, including smart cities and cold chains.
Unlike many other renewable technologies, this one is experiencing high commercial viability, with simple payback periods on most projects in the range of one to three years. According to him, the geothermal opportunity in India will only grow.
GIBSS had raised an undisclosed amount in a Series-A round from responsAbility, a Zurich-based asset management firm, with $2.7 billion of assets under management, and Infuse Ventures, India's top sustainability and clean technology fund, in August.
Prior to this, it had seed funding from Hyderabad Angels and SRI Capital, a Hyderabad-based seed-stage venture capital fund floated by serial entrepreneur-turned-investor Sashi Reddi.
"We are convinced that the adoption of geothermal technology will increase significantly in the near term."
The growth potential is massive, driven not only by ever-increasing electricity costs but also the substantial reduction in water consumption that the technology provides.
"Further, induction of the National Geothermal Policy and the integrated smart cities initiative by the government could have the potential of putting geothermal technology in India on the same trajectory as currently seen in China (compounded annual rise of 43 per cent during 2006-12, i.e, since the introduction of the comprehensive government policy to promote geothermal technology)," says Rik Vyverman, global head (ventures equity) at responsAbility.
Having achieved operational break-even and currently profitable, GIBSS should be able to scale to over Rs 600 crore or Rs 6 billion in annual revenue in the next three to four years, according to Shenoy.
Fact box
Inception: April 2010
Area of business: Geothermal air-conditioning technologies
Market size: Rs 65,000 crore or Rs 650 billion in India; expected to grow 400 per cent year-on-year
Fund-raising: Raised undisclosed amount in Series-A round from responsAbility and Infuse Ventures in August 2015
Revenue target: Rs 600 crore or Rs 6 billion in the next four years
Expert take
As worldwide focus to conserve energy grows, the need for technologies to meet today's demands becomes extremely important.
In particular, energy-efficient buildings are one way in which energy demands could be lessened.
One way to increase the efficiency of a building's heating and cooling systems is by utilising a ground source geothermal heating or cooling system, also referred to as a geothermal heat pump system.
These systems, when installed correctly, have proven to reduce 30-50 per cent of the building HVAC (heating, ventilating, and air conditioning) energy loads, utilising a relatively constant temperature of the earth. Geothermal heating-cooling systems have been installed in North America and Europe for 40 years and are no longer a 'new' concept.
Over the years, Sweden and other Scandinavian countries have been at the forefront of research and applications. Applications of geothermal technology have also grown rapidly in China since it was introduced in the 1990s through collaboration between the Chinese and the US governments.
It is estimated that by 2013, about 400 million square metre of building floor space in China was heated and/or cooled by geothermal heating-cooling systems.
GIBSS, with its partnership with international organisations, has been effective in building a strong team to be able to handle new technologies, such as geothermal cooling systems.
With successful projects under their belt, they have demonstrated that this technology works. In the next few years, I am sure GIBSS will prove themselves as torchbearers of geothermal cooling technology.
Roshan Revankar is manager, International Ground Source Heat Pump Association